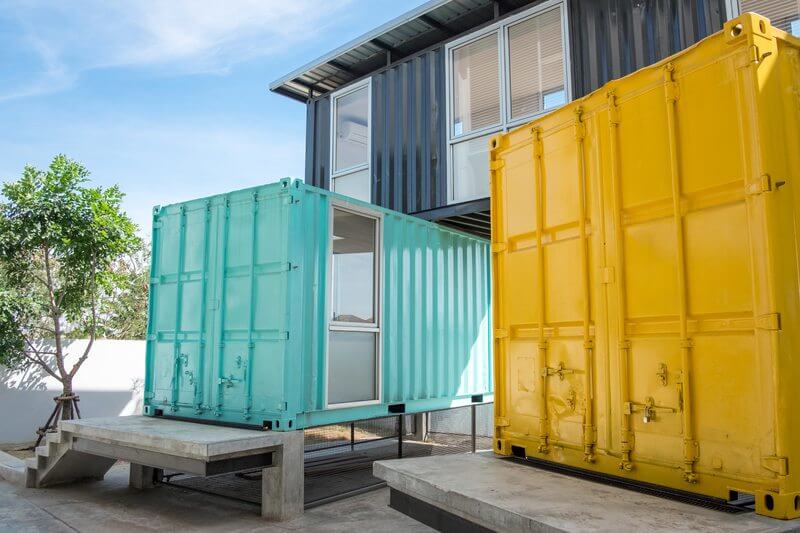 What to consider when choosing a steel shipping container vendor.
What to consider when choosing a steel shipping container vendor
Shipping containers are valuable investments. Just think of the possibilities of what you could build. Need extra storage space? Want to build a guest house on your property? Ever dreamed of having a thermo-regulated pool or hot tub? Steel shipping containers turn these ambitions into projects that you can build yourself.
Not to mention, steel shipping containers have resale value and are portable. Let's say you need to move unexpectedly and want to bring your storage space with you. You could always put your shipping container on a truck or break it down into its components. Or, sell it to your neighbor.
To make the most out of your investment, it's important to work with the right vendor. You need to work with a company that can offer guidance. While you're shopping, you're going to run into questions like the following:
Is it safe?

Is it durable?

How long will it last?

What is the best type of shipping container for my needs?

What type of resale value should I expect for my container or fixture?

What types of customizations can I make?

How will the shipping container come to my property?

What are some unexpected challenges to expect?

Is it possible to lock?

Is new or used a better option?
The right vendor will have experience with these questions and more. You'll also need guidance about whether to rent or buy.
Think of your shipping container vendor as a strategic partner. Here's how to find the right option, for you:
Know Your Project Goals
What do you plan to do with your shipping container? Understanding your goals upfront will help you find the right vendor for your needs. For instance, you may know that you're looking for storage, a home office, or a full-time living space.
Before contacting potential shipping vendors, do your research. You may consider talking to a structural engineer or talking to people who have worked on projects similar to yours.
This perspective will help you know what questions to ask. Let's say that you're creating a living space, for instance. You'll need answers to the following questions:
What steps do I need to take to bring my shipping container up to code?

What type of shipping container do I need for my desired structural goals?

Will I need a specialized container?
Come prepared with knowledge and questions, so that you can compare answers. The right vendor will know what steps to take to make your project idea a reality.
Do Backchannel Research
What are the reputations and specialties of different vendors? In addition to conducting research online, ask about customer reviews. If you're working with a structural engineer, ask for recommendations. Extra perspectives can be helpful when you're making such an important investment. You'll want to answer the following questions:
How do this vendor's shipping containers hold up over time?

Where does this vendor source its shipping containers?

Has the company been known to have any problems or major product recalls?

What's the customer service experience like?
Yelp and the Better Business Bureau (BBB) are great places to begin your research and to connect with customers. Know what you're getting into with this business relationship.
Understand the Fabrication Process
Most likely, you need to customize your container to meet your needs. This is a process known as fabrication. Conexwest, for example, has a process that maintains top-of-line quality and production standards.
Imagine having an idea that a company like Conexwest improves upon. You can have your shipping container delivered with an HVAC system, cargo locks, shelves, and other features.
The right fabrication process could mean the difference between a structure that passes inspection standards and one that doesn't. Talk to your shipping container vendor to better understand what's happening behind the scenes. Interview multiple vendors to figure out who has the best fabrication process.
When it comes to the long-term utility and value of your shipping container, fabrication can make all the difference.
Know the Warranty
It's important for your shipping container vendor to stand behind its product. Reputable vendors will have a clear-cut warranty for every product. These may include a mix of replacement and repairs, including pickup for the damaged product.
Hopefully, you'll never run into a situation where you need to use your warranty. But problems happen on occasion, especially for products that need to go through a manufacturing cycle.
Conexwest, for instance, offers detailed, product-specific warranties. These warranties come with a guarantee of durability and security.
Final Thoughts
When you're shopping for a shipping container, you're going to encounter many options. Don't let information-overload stand in the way between you and the right purchase. No matter what you're building, you're going to need guidance for navigating your options. You'll need help understanding the distance between a bare bones container and your dream product.
Conexwest provides top-of-the-line new, used, and refurbished storage units for sale at an affordable price. You can learn more about shipping containers on our YouTube channel, here. You can also browse shipping containers for sale, by type, on our website, here.