Long distance moving with a storage container.
Long distance moving with a storage container
Are you planning a long-distance move in the near future? If so, you're probably seeking ways to get creative. While budgeting, you've probably seen that the process can be expensive. Hire movers, rent a truck, get rid of the stuff you can't transport—it's a lot of work and a lot of time.
Depending on where you live, you might encounter additional complexities. Let's say that you live in California and want to move away. You're not alone. Californians face high costs of living.
More people are leaving the state than moving in, according to recent research. Because so many people are moving out, it's getting tough to buy moving supplies. Believe it or not, moving truck rental costs are skyrocketing. It's almost four-times more expensive, than other parts of the country, to rent a moving truck in California.
Costs like these add up. You may end up delaying, postponing, or over-spending on your long-distance move. Or, you may need to sell your stuff. No matter what, you're facing an inconvenience.
Outsmart the hurdles.
Storage Containers Make Long Distance Moving Easier
Also known as shipping containers, these versatile structures are a staple in the global shipping and logistics industry. Big companies use storage containers to transport products of all types, across continents. You've probably seen shipping containers on boats and trains. You may have even seen them on a truck.
Storage containers have utility beyond the movement of goods. Consider the "tiny homes" trend that is taking off. People are using steel shipping containers to build living spaces. Home-builders find these materials to be long-lasting, low-maintenance, and versatile. Homebuyers often save money and end up with a tiny, mobile home that lasts for decades.
Here's How
There are a few ways that storage containers can make long-distance moving, easier:
You're not stuck renting a typical moving vehicle. Choose a shipping container based on the items that you need to transport. Load up your items. Rent whatever vehicle you need to transport the items. You could even hire a driver or professional company to help.

You may not need to pack your stuff in boxes. If you plan your long distance move using a shipping container, you can simply load up the structure.

You can protect your items. Shipping containers, unlike truck beds, are modifiable to meet custom specifications. Add ventilators for air flow, insulation for harsh weather, and padding to protect your items.

Turn your shipping container into a place to sleep. With long-distance moves, especially if you're moving across state or international lines, lodging gets expensive. Don't want to pay for a hotel room? Your alternative is to camp, which may not always be feasible with the weather. If you've modified your shipping container for human habitability, you can add an air mattress or bed. Ensure your items are secure and that you have the required permits for rest stops or camping sites. You can get a comfortable night's sleep with all of your stuff on the cheap.

You might be able to haul the shipping container with your own truck. If you have a vehicle built for towing, you may be able to drag your shipping container along with a trailer. If you don't have a vehicle that works, you could rent one and ship your own car to your destination.

You can reuse the shipping container for multiple moves. Let's say that you anticipate multiple long-distance moves in the coming years. Perhaps you are getting established in a new career, exploring places to live, or have a family member in the military. It might be less expensive to invest in a storage container than to keep renting equipment. Not to mention, storage containers are useful for situations beyond moving. This blog post discusses that topic more, in the next section.

Instead of purchasing a shipping container, you can rent one instead. You can even consider renting one for the time period beyond when you're moving. Test one out to see how it works for your lifestyle. Remember that there are a number of ways to use a shipping container.

You can resell the shipping container. If you decide to purchase a shipping container, you can always resell it later. Steel storage containers have utility and are durable. As a result, there's resale value built-in.
Depending on your level of expertise, you may need to work with a shipping and logistics expert. As you would imagine, a long distance move with a storage container has its challenges. Depending on your vehicle and where you're traveling, you also may need permits and to pass inspections. Ensure that you've taken steps to keep everyone around you and on the road, safe. Remember to plan your move in-depth, practice driving, and understand the terrain that you'll be crossing.
Final Thoughts
There's so much that you can do with your storage container after your move. Especially if you have some land, you could do the following things: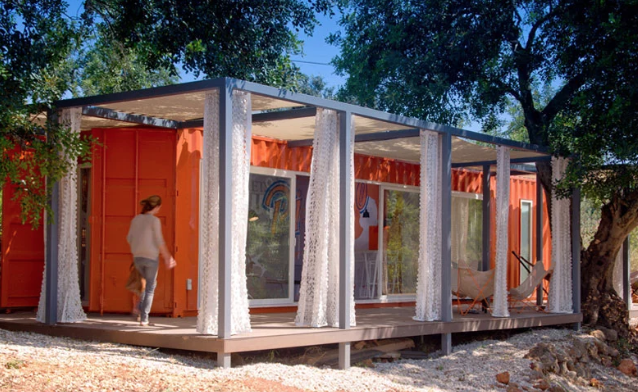 Start a home-based business like a daycare center or private office

Create a guest room with its own entrance

Keep your house clean with extra storage
Depending on how you use your shipping container, it may be one of the smartest, most creative investments that you've ever made.