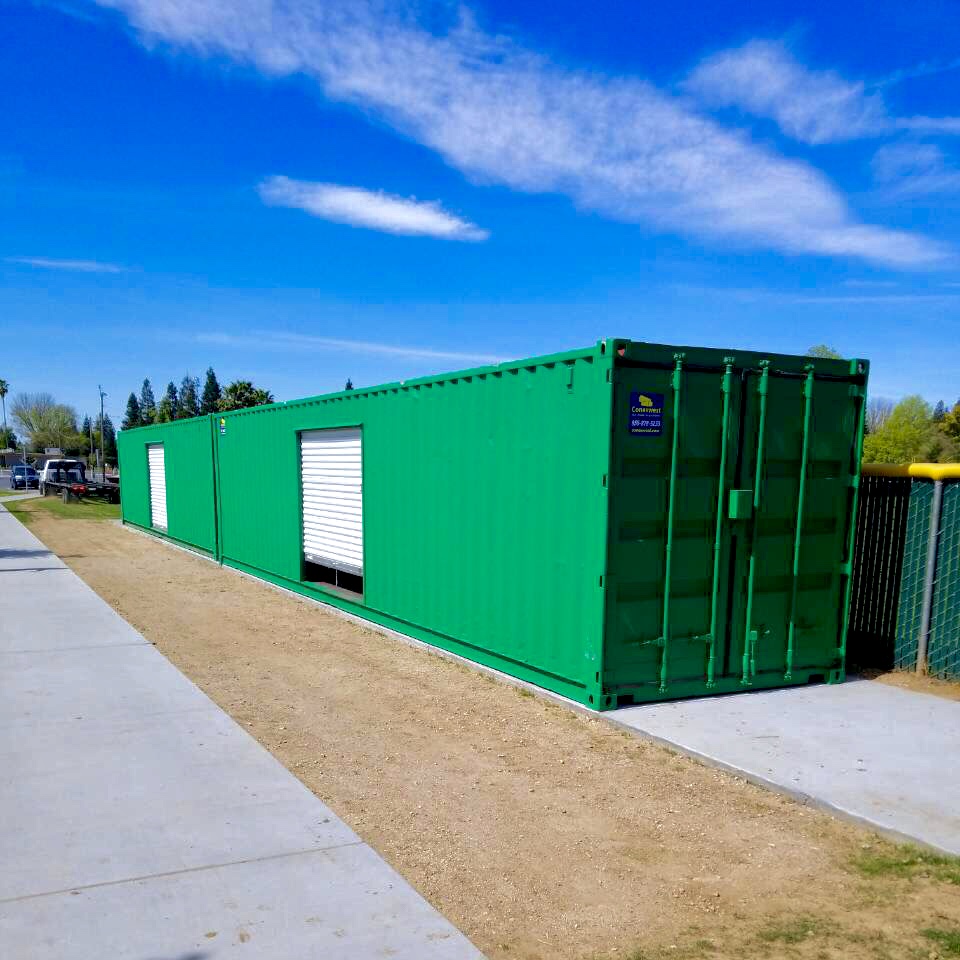 Shipping Containers for Sale in Chicago, Illinois
Buy shipping containers in CHICAGO, ILLINOIS
New and Used Shipping Containers for Sale in Chicago, Illinois
Looked all over the internet for 'shipping containers for sale Chicago' but didn't find what you were looking for?
This might be your lucky day and here's why: Conexwest offers shipping units for sale in Chicago. We are the solution for your storage or shipping needs. With our large inventory of new, used, and refurbished steel shipping containers, we can assure you find the product best for you.
Our most popular shipping container sizes are 20ft and 40ft. You can order custom sizes such as 10ft and 30ft. Conexwest offers shipping container modifications so you can modify the container to the comfort of your work site or living space.
We customize shipping containers in Chicago, Illinois by adding:
We believe in providing up-front and transparent pricing to our customers. Contact us to receive a custom fabrication quote. Submit your details below.
Top Quality Fabrication Services
Skilled Craftsmanship: At Conexwest, our team comprises certified welders, electricians, and carpenters who bring their expertise to every project. Their skills and attention to detail ensure that we consistently deliver the highest quality products.
Swift Delivery: We understand the importance of prompt service. Depending on your location, we offer fast delivery, often with next-day options. This ensures that you can get started with your shipping container solution as quickly as possible.
Satisfaction Guaranteed: Your satisfaction is our top priority. We back our products and services with a 100% satisfaction guarantee, providing you with peace of mind that your purchase with Conexwest will meet and exceed your expectations.
Exploring the Versatile Uses of Portable Containers in Chicago, Illinois
At Conexwest, our primary aim is to streamline your search for the perfect shipping container, making it an effortless journey from start to finish.
Our diverse range of shipping containers, available for both purchase and rental, ensures you'll discover the ideal match for your needs with ease.
Whether it's for personal, commercial, or industrial purposes, we've got your back.
Here's how: Our friendly and well-informed team is by your side every step of the way, offering valuable insights and tailored recommendations to help you select the right shipping or storage container size, condition, and features that align precisely with your project requirements.
We understand that every project is unique, and our commitment is to assist you in making the best possible choice.
With Conexwest, you can have full confidence in receiving a top-quality shipping container that perfectly fits your needs. Our exceptional service ensures a seamless experience, coupled with prompt delivery throughout the entire process.
Our shipping containers in Chicago offer exceptional versatility, catering to a broad spectrum of purposes:
Residential and Disaster Relief: These containers provide a dependable solution for residential storage and disaster relief efforts, ensuring secure, long-term storage options vital for supporting relief operations.
Renovations: Ideal for keeping tools and materials conveniently on-site during renovation projects, these containers guarantee easy access to all the essentials required to get the job done efficiently.
Moving and Storage: Our portable units are meticulously designed to simplify the moving and storage process, benefiting both businesses and individuals and ensuring a smooth and hassle-free transition.
Business Storage: Trusted by retailers, construction firms, and businesses in need of additional storage space, our containers offer a practical and secure storage solution.
Mobile Offices: Transformable into private, secure workspaces that can be easily relocated between locations, these portable storage containers provide the flexibility necessary to meet your workspace requirements.
Event Storage: Perfect for safeguarding equipment and supplies necessary for outdoor events such as concerts or festivals, these containers maintain organization and accessibility for your event needs.
Why Choose Conexwest as Your Shipping Container Supplier in Chicago?
At Conexwest, we take pride in our exclusive shipping container fabrication shops located in Chicago, Illinois. These state-of-the-art facilities are dedicated to ensuring the production of top-quality shipping containers at our Chicago HQ, that are built to last for many years.
Skilled and Committed Team
Our team comprises full-time, highly-skilled technicians and craftsmen who are committed to delivering excellence.
They are not only experienced but also receive ongoing training throughout the year to stay updated on the latest container trends and technology.
This commitment to continuous improvement ensures that your container is fabricated with precision and the latest industry advancements.
Tailored to Your Vision
We believe in turning your vision into reality. If you can imagine it, we can build it, and we can build it better. Our skilled craftsmen work diligently to customize shipping containers according to your unique requirements, ensuring they meet and exceed your expectations.
Uncompromising Quality
Conexwest is committed to delivering the highest quality shipping containers in the industry. Our dedication to quality assurance ensures that every container that leaves our fabrication facilities in Chicago is of unmatched quality, built to withstand various demands and conditions.
Next-Day Delivery Options
To further enhance your experience, we offer next-day delivery services that may be available in your area. This swift delivery option ensures that you receive your customized, top-quality shipping container promptly, allowing you to put it to use without delay. Trust Conexwest for exceptional quality and convenient service.
Conexwest: Your Premier Destination for Shipping Containers and Fabrication Services in Chicago, Illinois
At Conexwest, we stand as your one-stop shop, offering not only the most extensive selection of shipping and storage containers for sale but also a comprehensive range of fabrication services.
Durable Containers for Every Environment
Our shipping containers in Chicago are engineered to endure the harshest conditions of ocean shipping, making them a reliable choice for various environments and applications.
Customization and Enhancement
Elevate your storage unit to meet your unique needs by taking advantage of our customization options. Add features such as windows, HVAC systems, electrical power setups, specialty doors, and even personalized paint to tailor your container to your specifications.
Tailored Designs for Varied Applications
We specialize in designing containers for a wide range of storage applications. Our experienced team can provide valuable suggestions and showcase examples from previous projects to help you find the perfect solution.
Transformative Fabrication Services
Our extensive fabrications go beyond standard modifications. We can completely transform your container into a branded trade show booth or a seaside restaurant, turning your vision into reality.
Secure Chain of Custody
Conexwest places a strong emphasis on maintaining a secure chain of custody. This ensures that your modification project is executed correctly and promptly, giving you peace of mind throughout the process.
Effortless Process
Our commitment to a seamless experience means that the modification process is straightforward and quick. With Conexwest, you can swiftly put your container to use, whether it's for storage, a unique business venture, or any other purpose.
How do you buy shipping containers in Chicago, Illinois?
If you're wondering how to purchase shipping containers in Chicago, Illinois, Conexwest has you covered. We've streamlined the process to make it simple and convenient for you.
Browse Our Inventory: Start by exploring our extensive inventory of shipping containers. We offer a variety of sizes, conditions, and customization options to meet your specific needs.
Get in Touch: Have questions or need assistance? Reach out to our knowledgeable team. We're here to provide insights, answer your queries, and offer tailored recommendations based on your project requirements.
Select Your Container: Once you've found the perfect container that aligns with your needs, we'll guide you through the selection process. Choose the size, condition, and any additional features you desire.
Request a Quote: Contact us for a quote that matches your chosen container specifications. We believe in providing transparent pricing to ensure you have a clear understanding of your investment.
Secure Your Container: Once you're satisfied with the details and pricing, you can secure your shipping container. We'll assist you in finalizing the purchase.
Delivery Options: Depending on your location and requirements, we offer reliable delivery services to get your container to your desired destination in Chicago.
Enjoy Your Container: With Conexwest, you're not just buying a shipping container; you're gaining a reliable and versatile storage solution. Whether it's for personal, commercial, or industrial use, your container is ready to serve your needs.
Whether you're looking for a compact 20' shipping container or other container sizes, Conexwest has the right solution for you.
Discover the versatility and functionality of our container options for all your storage, construction, office, and housing needs in Chicago. Buy shipping containers from Conexwest and benefit from an exceptional service every step of the way.
Conexwest: Serving a Diverse Customer Base
At Conexwest, our customers encompass a wide spectrum, ranging from your friendly next-door neighbor to small and large businesses.
We take immense pride in catering to this diverse clientele and place customer satisfaction and product consistency at the forefront of our mission.
Dedicated to Customer Satisfaction
Our unwavering commitment to ensuring our customers' satisfaction is the cornerstone of our business philosophy. We go to great lengths to meet and exceed the expectations of individuals and businesses alike.
Explore Shipping Container Insights
For those eager to delve deeper into the world of buying steel shipping containers, Conexwest's blog is your go-to resource.
Stay informed about the latest industry trends, gain valuable knowledge, discover fascinating projects, and much more. Our blog is designed to keep you updated and engaged in the exciting world of shipping containers.
Where to Find Conexwest Shipping Containers in Illinois
As part of our ongoing efforts to better serve our customers, Conexwest is excited to extend our services to various neighborhoods across Chicago, Illinois. We take pride in offering top-notch shipping and storage containers tailored to your unique storage and transportation needs.
You can rely on our dependable delivery services to ensure that you have access to the best storage solutions right here in Chicago.
Whether you're located in the city center or on the outskirts, Conexwest is dedicated to delivering excellence with every container we provide. Your satisfaction and convenience are our top priorities.
Buy shipping containers and implement custom modifications in these cities:
| | |
| --- | --- |
| Evantson, IL | Aurora, IL |
| Naperville, IL | Oak Lawn, IL |
| Joliet, IL | Sycamore, IL |
| Peoria, IL | Ottawa, IL |
Streamlining Ground Delivery for Your Shipping Containers in Chicago
Chicago, often hailed as the heart of railway container shipping in the United States, plays a crucial role in the logistics landscape.
The most important roads for cargo container shipping in Chicago are:
Interstate 94 (I-94) - Dan Ryan Expressway
Interstate 90 (I-90) - Kennedy Expressway and Jane Addams Memorial Tollway
Interstate 55 (I-55) - Stevenson Expressway
Interstate 290 (I-290) - Eisenhower Expressway
Interstate 294 (I-294) - Tri-State Tollway
At Conexwest, we take full advantage of Chicago's strategic location to provide ground delivery solutions that cater to your shipping container needs.
Our Focus on Ground Delivery
In Chicago, where railway connections are abundant, we prioritize offering reliable ground delivery services. We understand the importance of delivering your shipping container directly to your chosen location efficiently.
Taking Advantage of Connectivity
With numerous railroads crisscrossing the city, Chicago enjoys excellent connectivity. Yet, we know accessibility matters. Conexwest ensures easy access to our road delivery services, allowing us to transport your container precisely where you need it.
Using Chicago's Port Wisely
While Chicago's Port is vital for intermodal container shipping, our primary emphasis is on ground-based delivery. We make the most of the Port's central Midwest location to seamlessly connect your shipping container to its final stop via road transport.
Leveraging a Strong Road Network
Chicago's unique location brings together major railroads and federal highways. At Conexwest, we tap into this robust road network to ensure the efficient and smooth delivery of your shipping container.
When you choose Conexwest, you're opting for dependable ground delivery services in Chicago, tailored to your shipping container requirements. Our commitment to accessibility and precision guarantees your container reaches its destination promptly and securely.
Delivering Customer-Centric and Cost-Effective Shipping Container Solutions
When it comes to shipping container sales and delivery services in Chicago, Illinois, Conexwest elevates this fundamental service into a full-fledged customer experience.
Customer-Centric Delivery Services
At Conexwest, we prioritize your convenience and peace of mind. Our on-demand storage unit delivery services are tailored to your needs, ensuring a seamless experience from start to finish.
To make this happen, we gather crucial details such as door direction and site contact information, as well as assess the availability of sufficient space for the safe delivery of your container.
Scheduled Deliveries for Consistency
Consistency is key to our approach. We offer scheduled deliveries, allowing you to plan your logistics with confidence.
Our dedicated team works closely with our customers, helping them streamline their plans and operate more efficiently. Additionally, we provide emergency transportation services to accommodate unforeseen needs.
Cost-Effective and Efficient Delivery
Conexwest is committed to reducing your overall logistics costs. Our 3 to 7-day truck and trailer delivery move services are designed for both affordability and efficiency. We aim to make shipping container delivery a cost-effective component of your operations.
Transparent Pricing
Transparency is the foundation of our pricing policy. We believe in providing upfront, clear pricing to our customers. To receive a delivery quote, simply submit your delivery zip code and unit details through our user-friendly web form.
Reliable Communication
Communication is key to ensuring a smooth delivery process. Our dispatcher will proactively call the designated site contact 24 hours in advance to confirm the 2-hour delivery window.
On the day of delivery, the truck driver will also contact the site contact with a 30-minute delivery window, ensuring you're fully informed every step of the way. Terms and conditions apply to all deliveries, reflecting our commitment to quality service.
Shipping Container Conditions: New, Used, or Refurbished
New "One Trip" containers arrive from Asia having carried a single cargo load, making them exceptionally clean and in a condition akin to new. These containers are perfect when aesthetics and long-lasting performance are your primary concerns.
Used "Cargo-Worthy" containers are certified for global shipping based on rigorous assessments of their doors, floors, walls, and ceilings. While they may exhibit minor dents, rust, or faded paint, rest assured, that these units are completely leakproof.
Refurbished "Cargo-Worthy" containers undergo a meticulous process. They are thoroughly sanded, any rust is meticulously removed, and they receive a fresh coat of primer and paint. As with all our containers, these refurbished units are guaranteed to be leakproof.
At Conexwest, we prioritize safety and quality, which is why we do not sell "AS-IS" or "Wind Water Tight" (WWT) containers to avoid any risks to structural integrity. Your peace of mind and container reliability are paramount to us.
Conexwest Storage Container Warranty
Our portable storage containers are built to last, providing durability, security, and weather resistance that you can rely on. When you purchase a new ISO shipping container from Conexwest, you'll enjoy an extensive 10-year Warranty Coverage Period starting from the date of purchase.
For our quality Used Cargo Worthy ISO shipping containers, we offer a 5-year Warranty Coverage Period from the date of purchase. Plus, our leakproof guarantee ensures your unit stays protected.
If any issues arise during the warranty period, Conexwest has you covered. We'll promptly repair the problem, using either new or refurbished replacement parts, or replace the necessary units or components - all at no additional cost to you.
Our warranty applies to defects resulting from improper materials or workmanship, all while ensuring your container receives proper care and maintenance for normal use.
With Conexwest, you can have confidence in the longevity and performance of your storage container investment. Terms & conditions apply
Contact Your Shipping Container Sales Representative in Chicago, Illinois
If you're searching for versatile storage solutions in Chicago, look no further. Conexwest offers a diverse range of options to meet your needs, including used shipping containers for sale in Chicago.
Our inventory includes sturdy construction storage containers, perfect for keeping tools and materials on-site during your projects.
For those in need of flexibility, we recommend our high-quality portable shipping container. Additionally, we offer mobile office trailers in Chicago (IL) designed to meet your workspace requirements.
If you're considering eco-friendly and cost-effective living options, explore our selection of container homes in Chicago and you will find what you're looking for.
Daria Podorvanova
Office: (855) 878-5233
Direct: (872) 240-1575
Have questions about your storage system? "My name is Daria - Conexwest's Illinois Sales Rep. I am committed to providing the best products for anyone in need of shipping or portable storage containers. I enjoy modifying containers to fit custom needs. I make the process easy and smooth because simply stated, We Build It Better."
Our yard location: Chicago, IL 60633
Would you like an all-inclusive price quote? Submit your unit details through our web form below. We want your business. Let us compete with other quotes.
Frequently Asked Questions
What types of shipping containers are available for sale in Chicago?
There's a variety of shipping container types that can suit your needs, including standard dry containers, refrigerated containers (reefers), high cube containers, and specialized containers for specific cargo requirements.
Where can I buy shipping containers in Chicago?
You can purchase containers from reputable suppliers like Conexwest. We offer a wide range of shipping containers in different sizes and conditions to meet your storage or transportation needs.
Are there used shipping containers available for sale in Chicago?
Yes, they are. You can find both new and used shipping units. Used containers are often a cost-effective choice and are available in various conditions, including cargo-worthy and refurbished options.
What sizes of shipping containers can I find for sale in Chicago?
Typically shipping containers come in standard sizes like 20-foot and 40-foot lengths. However, there are also variations available, such as high cube containers for added vertical space and smaller sizes for more compact storage solutions. The availability of sizes may vary depending on the supplier, so it's a good idea to check with your chosen provider for specific size options.