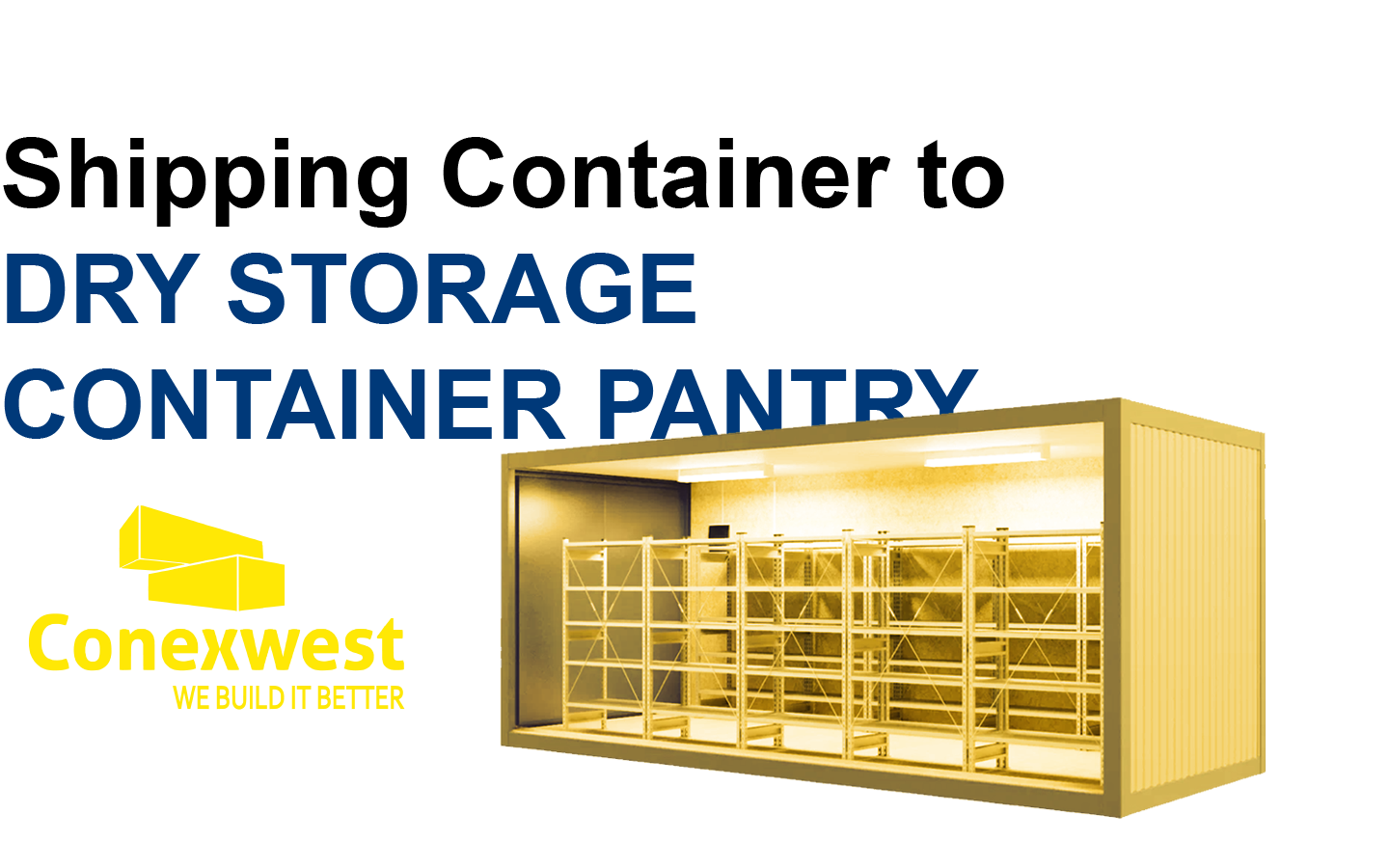 Turn Your Shipping Container into a Dry Storage Container Pantry
How to Turn a Shipping Container to Dry Storage Pantry
Running out of dry storage room in your restaurant or store?  No more available floor space in your grocery store or food bank? Consider turning our shipping containers into your own dry storage container pantry.
If you're familiar with shipping containers then you know that they are certified to be wind and water resistant. But what you might not know is that is the exact reason why they would make perfect dry storage pantry.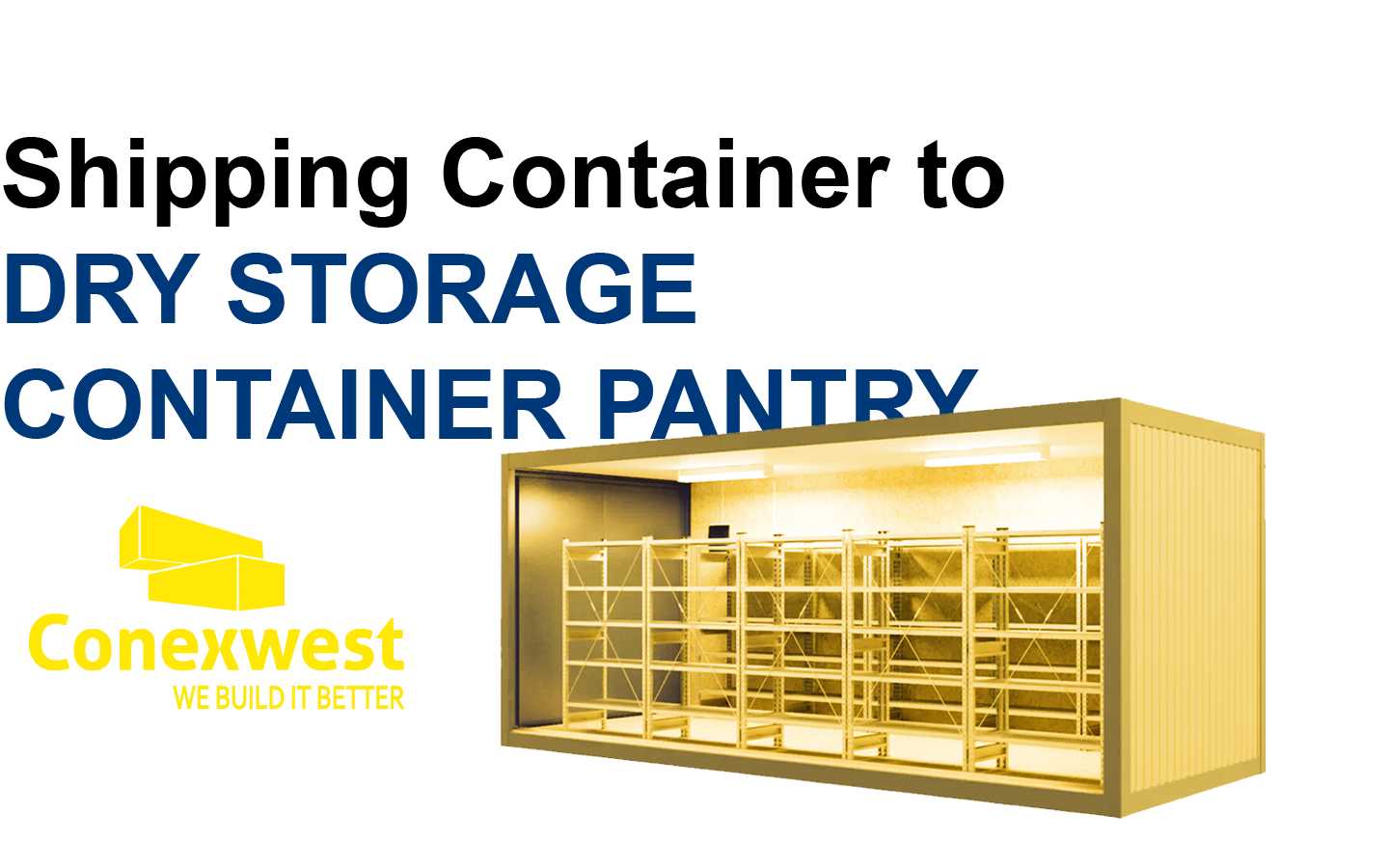 Shipping containers' main purpose is to keep its' inventory safe, dry and readily available. On top of its' waterproof qualities, shipping containers are versatile. You can add food grade shelving, air conditioners to keep temperatures controlled, and install whatever you might need with our fabrication team's help.

Steps to consider when to turning an ordinary 20ft or 40ft shipping container into a dry storage container pantry:
Easy Access
Shipping container doors are built tough and it can be challenging to open if you need to do it multiple times a day. Improve the accessibility of your dry storage container pantry by swapping out the cargo door.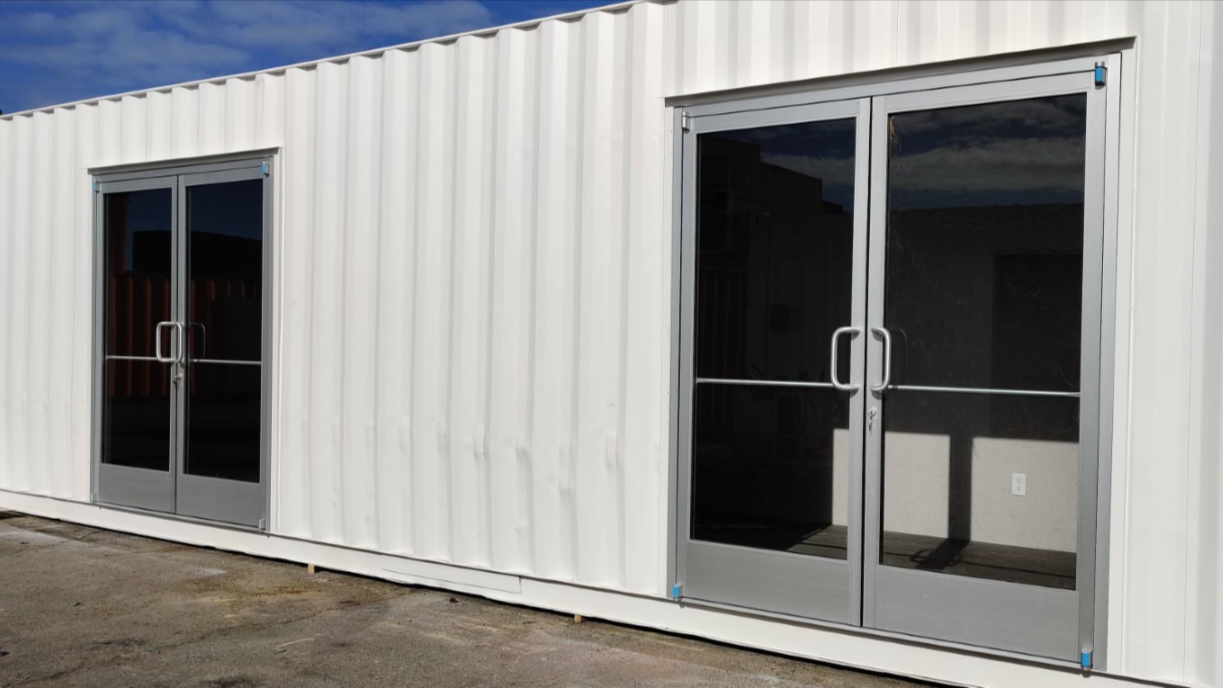 Man doors are ideal if you and your staff need to go into your storage pantry constantly. Add a panic bar and push open the door with your hip and allow you and your staff to exit out of the pantry hands-free.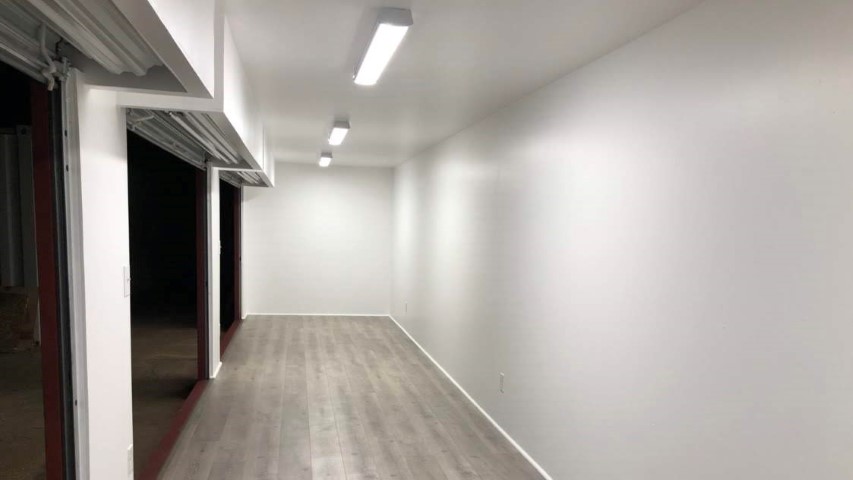 Roll-up doors can also make your storage container even more accessible. Especially if you need to move big boxes or big items in and out often.
If you can't decide between the two doors, you don't have to! The great thing about shipping containers is that you can build whatever you need on it. So you can keep your original cargo door and add either a man door or roll-up door on the side or the other side of your storage container.
Keep it cool!

Climate change isn't just a hot topic nowadays but can be an issue in your external pantry. If you're fortunate enough to live where temperatures only range from 50 -70 degrees then you can go ahead and skip this section but for the rest of us we need to keep our inventory from melting and molding.
 
There are many ways of keeping the indoor climate controlled. One way is insulating your mobile pantry. Our fabrication team can insulate your outdoor pantry with fiberglass, spray foam, and thermal insulation boards.
If you live somewhere where humidity can be an issue then we recommend installing proper ventilation equipment like a power louvered vent or turbine vent. These vents are designed to take any excess heat from the inside and expel them outside.
If you have high priced inventory, we highly recommend installing a HVAC unit in your storage container. There are many options to match your needs. You can get a window A/C unit, a ductless mini-split A/C unit, or if you have high priced inventory, the BARD units will do the job. HVAC units will guarantee that your storage container's temperature will always be optimal.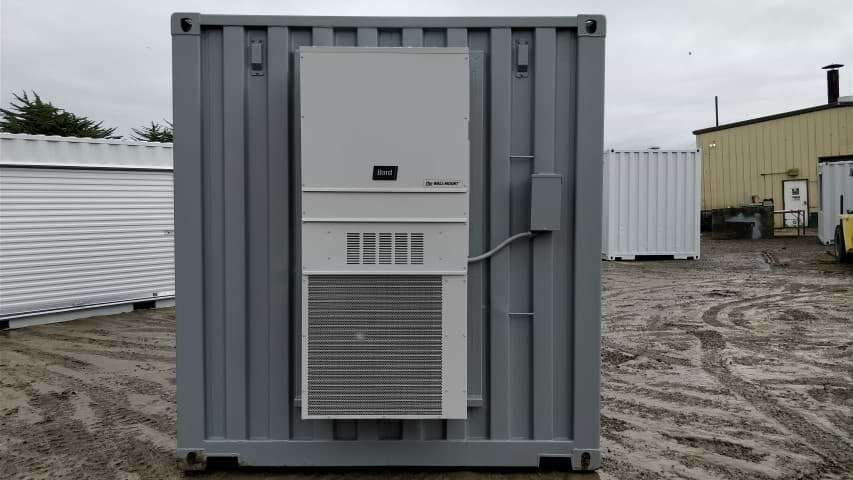 Light 'er up!

Storage rooms should be free of windows because light can oxidize foot and pigments. However, in order to keep you and your staff from tripping in the dark, consider installing our light kit. We can install a censor so that the light turns off automatically when the storage room isn't being used. Saving you more money in the long run!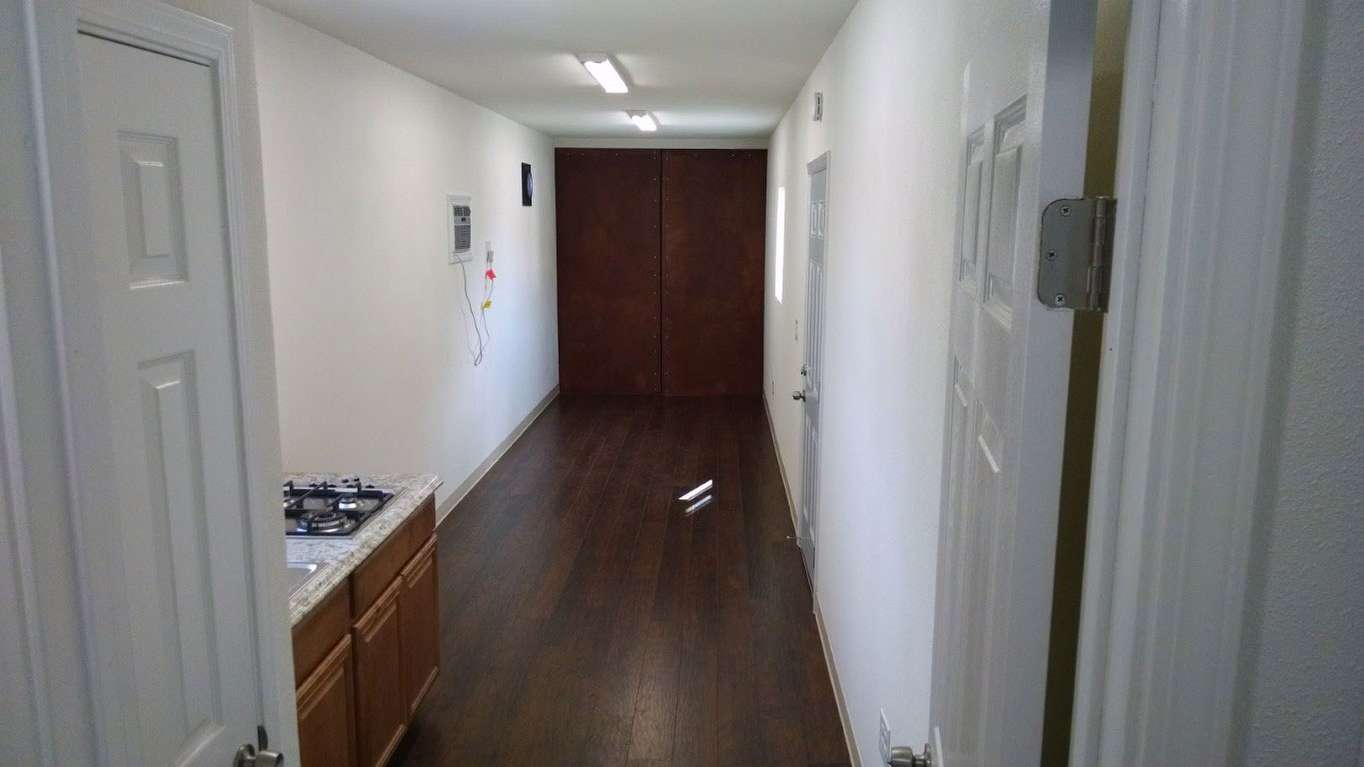 I need some  s  p  a  c  e  !

Now that we have the conditions right, let's talk about how we can help you maximize your space. We have NSF certified food grade shelves so that all your nonperishable food items can be within reach. They are fully customizable so you can configure them to meet your needs.
'
If you need heavy duty shelves to stock bulk items like beans, rice, and coffee, we have steel shelving to make the most of your 20ft or 40ft storage container. This solution will help you save money for years to come!
If you need to lock expensive stock items like vintage wine, saffron, or eggs then ask our design team about cabinets. Cabinets are great addition because they can be locked and add great aesthetics to your mobile pantry.
Bonus TIp:
In addition to providing extra storage space for your pantry items, a dry storage shipping container can also enhance the overall aesthetic of your outdoor space. You can paint the container to match the color scheme of your restaurant, add a logo to increase your branding,  or even install plants and flowers around it to create a beautiful outdoor space.

Overall, using a dry storage shipping container as an additional pantry is an excellent way to increase your storage space and keep your kitchen organized. With its versatility, ample storage space, and ability to withstand harsh weather conditions, it's a cost-effective and practical solution for any retail business. 

Check out our free to use 3d container builder, configure your dry storage container pantry to your liking without any prior engineering knowledge!