Different Conditions of Shipping Containers: A Simple Guide.
Different Conditions of Shipping Containers: A Simple Guide.
Buying a shipping container? You need to make the right investment for your needs. It's common for inexperienced buyers to feel confused about their options. Why are some shipping containers more expensive than others? Is new or used your best option?
Just like buying a car, you need to put a lot of thought into your decision. But unlike buying a car, there isn't a lot of information available. While shipping container experts are out there, doing research is tough.
Conexwest has devoted its business to helping buyers make the most out of their investments. Our team put together this guide, which you can skim, to learn about the different types of shipping containers—and their pros/cons.
New Containers.
Conexwest has a unique system for manufacturing, importing, and selling high-quality shipping containers. We have a name for them: "One Trip Containers." What happens is this:
The shipping container gets manufactured in China.

Once the shipping container is ready, it transports freight to the United States.

Once it get offloaded, the shipping containers arrive at the Conexwest yard.
 
Advantages.
This method offsets shipping costs while still enabling a manufacturing process that meets each customer's needs. For this reason, one-trip containers are available in more varieties. Customers can fabricate them with double doors, open-sides, and hard tops. To see options, take a look at the different fabrications available.
New containers come factory painted in neutral colors: light beige, light gray, and white. More benefits include:
Little to no dents.

High locking bar handles for easy cargo door opening.

No rust.

A longer service life, 30+ years.

Great resale value.
New shipping containers will have high locking bars because they're designed to be opened when they're sitting on the ground, as opposed to when they're sitting stacked up, high on a chasse. All new containers also come with high security lockboxes, as they are designed for on-the-ground storage. These containers are specially built for our storage customers. The 40-footers, for instance, will have forklift buckets. Used and refurbished containers will not have these features, as they were not originally designed for Conexwest customers in need of ground-level storage access.
Disadvantages.
A new shipping container is the best option. But it can be costly. And you need to have a clear plan for best use or what you're going to build. New containers are ideal for customers with a clear project idea, aesthetic priorities, and flexibility in their budgets. Business owners, for instance, will greatly benefit from a new container purchase.
Refurbished Containers.
Conexwest offers refurbishing services. We repair container flaws and make used containers as close to new as possible.
We take used containers, grind them down, wire brush them, or sandblast them to remove rust. We then put on a rust restorer, apply a coat of primer, and two top coats of paint. We then paint a neutral color--or any custom color that the customer wants.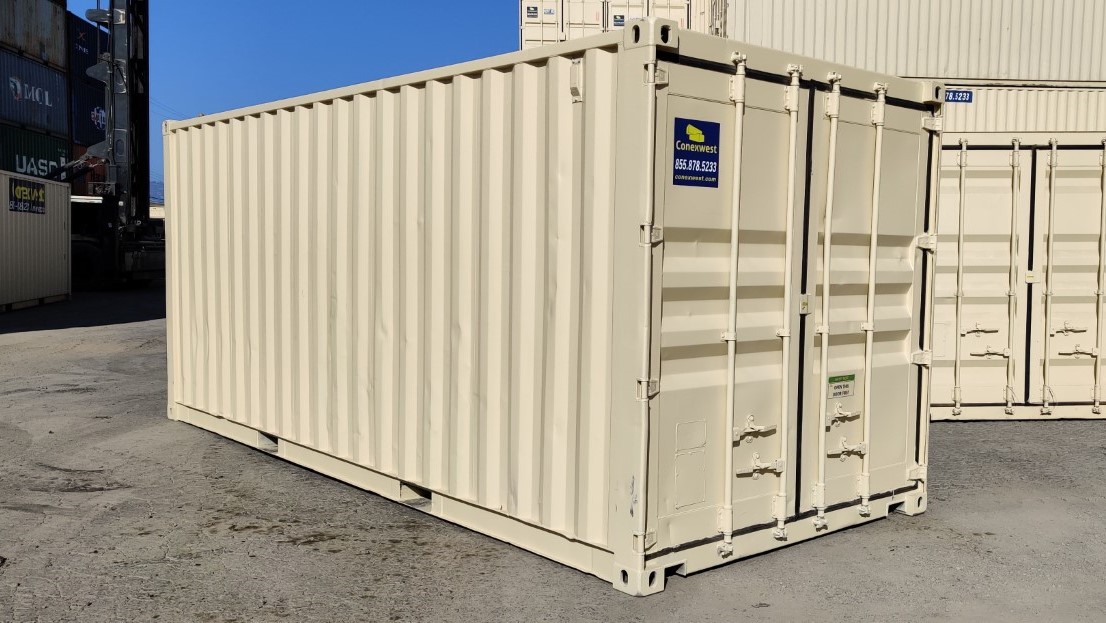 Advantages.
Refurbished shipping containers cost significantly less than new containers and slightly more than used containers. Its service life is also higher than a used container due to fabrication options and the Conexwest warranty. Customers can also request configurations that they wouldn't be able to make with a used container.
Disadvantages.
A refurbished container will never be a new container. Some fabrications and shipping container types may not be possible nor available with a refurbished model. Depending on your needs, you may have less flexibility. Because the asset has already depreciated, a refurbished shipping container will not retain equity like new ones and delivery time may increase due to reconditioning.
You can learn more about our process for refurbishing shipping containers, here.
Used Containers.
If you're on a budget, have short-term storage needs, and don't mind minor flaws, a used container can be a great option. But it's easy to feel confused by all the options. Here's an overview:
AS-IS containers. These are the lowest-grade containers. It's bought sight-unseen. Chances are, the doors, seaks, and floors are broken. The container could be dented-in. There's a chance that you won't be able to use the container, and refurbishing may not be an option. These containers tend to have a short service life. While the price of an AS-IS container may be appealing, you're taking a gamble when you buy one.

 

Wind water tight (WWT) shipping container

Wind water tight (WWT) containers. These types of containers are the next grade up from AS-IS. Their doors will work, and the container does not have any leaks. Wind water tight containers are ideal for customers that need storage, without an extended service life. Some may be refurbishable. These types of containers are decommissioned from shipping lines, due to defects. Conexwest occasionally has them on inventory, but not often. When we sell AS-IS containers, we inspect them for our customers. Because of the guesswork, however, we usually only have a few. We take no risks with our quality and inventory. Customer satisfaction is our highest priority.

 

Cargo Worthy (CW) shipping container

Cargo Worthy (CW) containers. These containers are structurally sound with functional doors. They are in significantly better condition and are younger than AS-IS or WWT containers. They will pass an IICL Marine Survey inspection. They are leak-proof with a long service life. Conexwest obtains these containers directly from shipping lines. They have not been decommissioned. Shipping lines make a profit by selling them to Conexwest. Conexwest recommends only new or cargo worthy containers.
 
Advantages.
The main consideration is cost. Shipping containers depreciate most within their first five years. A cargo-worthy container still has equity and a potential service life of 10-20 years. If you don't need a new shipping container, the cost savings may be ideal. In some cases, you may not need the shelf life of a new container. You can buy what you need.
Disadvantages.
All used containers have imperfections that include dents and rust. You'll also need to inspect each container if you're planning to build a habitable structure. Keep in mind, however, that you can always refurbish structures for imperfections and aesthetics.
Final Thoughts.
Conexwest has put careful thought and intelligence into its business model and inventory. We care about selling high quality products that meet our customers' needs. That's why we offer one of the strongest warranties with the best terms in the industry. Because of our unique sourcing methods, we are in a position to make guarantees that others can't.
Any Conexwest used container that is cargo worthy or higher comes with a five-year warranty. For new containers, the warranty is 10 years. Leakproof guarantee included. 
The more tangible your ideas can be upfront, in your planning, the lower your likelihood of making a mistake or wasting money and time.

Check out the 3D modeler here.

You can also contact us with questions.