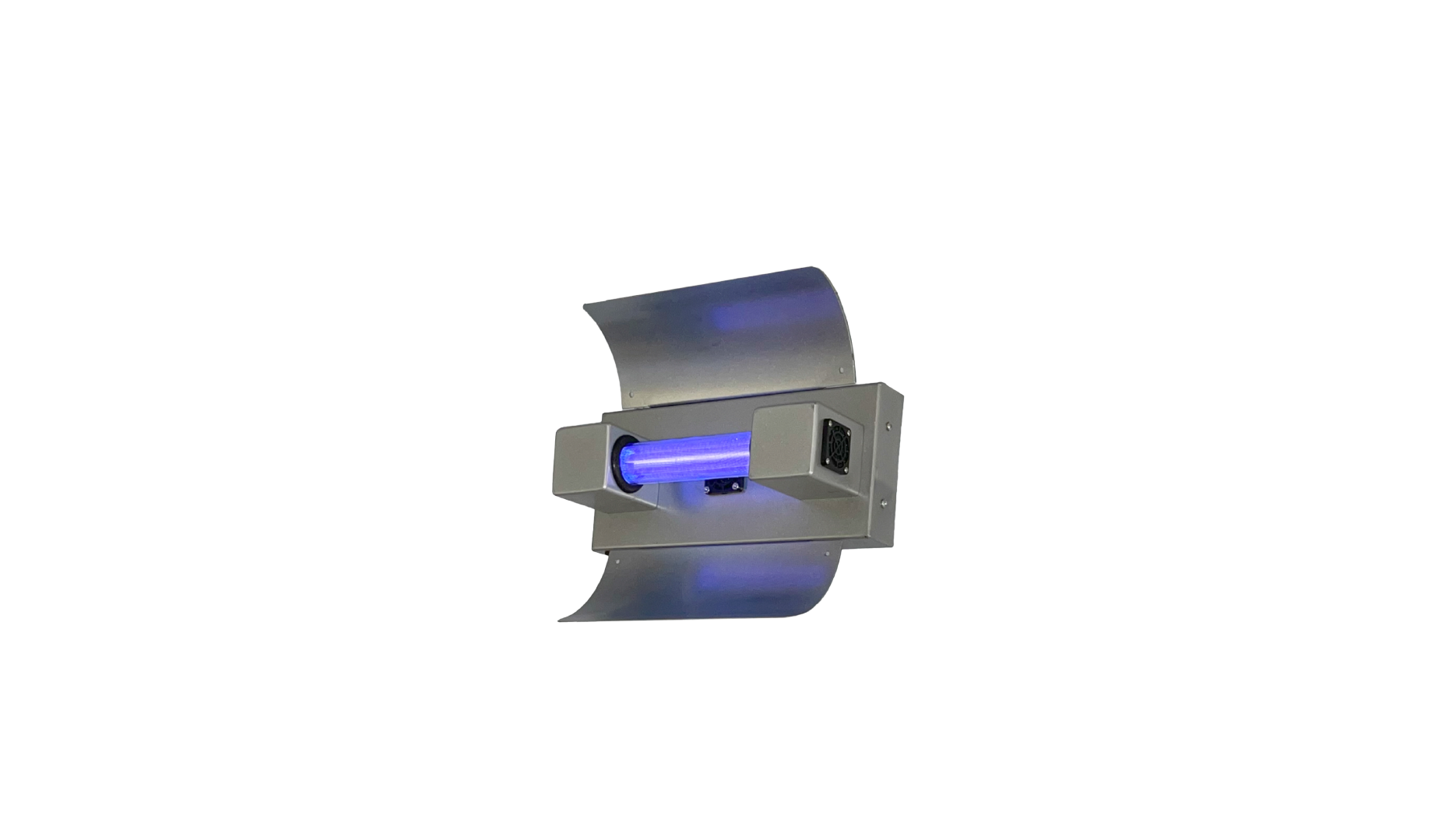 GermBuster Ésconce Far-UVC
GermBuster Ésconce Far UVC (COVID Disinfection)
GermBuster Ésconce Far-UVC (COVID Disinfection)
GermBuster Ésconce Far-UVC (COVID Disinfection)
Will require 1 week lead time.
Protect yourself and guests from harmful airborne pathogens including COVID-19 virus, coronavirus variants (delta, omicron), mold spores, other viruses and bacteria with the Sterilray GermBuster Ésconce Far-UVC. This powerful air and surface disinfection device works by using (Far-UV 222nm) photons that damage the germ's DNA or RNA and prevent it from reproducing in under a second. It is safe for humans and animals because Far-UVC can't penetrate human skin or eyes, so you can turn it on when people are around.
Order today and kill COVID-19 and future coronavirus variants on contact. This innovative COVID-19 protection device is ideal for 10-20ft shipping containers, houses, hospitals, schools, government agencies, stores, churches, and any other places where people get together.
Dimensions: 12 in. x 5.5 in. x 5.5 in.

Weighs: 25 lbs

Lamp Length: 6 in.

Lamp surface area: 163 cm2

Operating temperature: 40°F - +104°F

Operating humidity: 10-85% RH

Mounting: In hung ceiling

Finish color: White/choice of PMS color

Housing material: Powder coated aluminum

Power supply: 100-270 V AC | 50/60 Hz

Input power consumption: 60 W

Lamp Technology: Far-UV 222nm Excimer

Beam Angle: 180° by 170°

222nm irradiance (1.27 cm from lamp): 1550 uW/cm2

Lamp life warranty (pro-rated): 30,000 hours
Dimensions: 12 in. x 5.5 in. x 5.5 in.

Weighs: 25 lbs

Lamp Length: 6 in.

Lamp surface area: 163 cm2

Operating temperature: 40°F - +104°F

Operating humidity: 10-85% RH

Mounting: In hung ceiling

Finish color: White/choice of PMS color

Housing material: Powder coated aluminum

Power supply: 100-270 V AC | 50/60 Hz

Input power consumption: 60 W

Lamp Technology: Far-UV 222nm Excimer

Beam Angle: 180° by 170°

222nm irradiance (1.27 cm from lamp): 1550 uW/cm2

Lamp life warranty (pro-rated): 30,000 hours