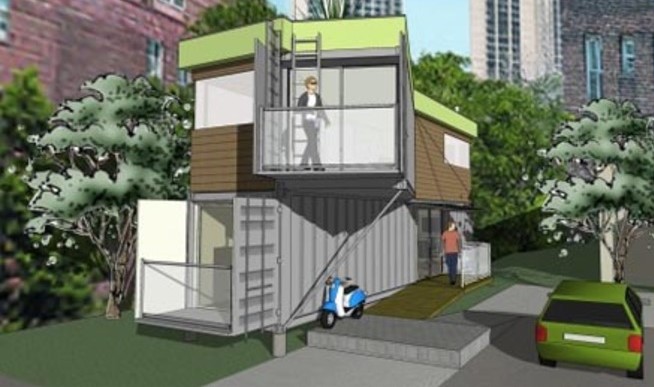 Shipping Container Home Plans.
Shipping Container Home Plans & Floor Designs
For those unfamiliar with shipping container home designs, the idea of living in a shipping container home may seem weird, or at least unconventional. However, there's a reason why shipping container home plans are becoming such a huge trend in the U.S. and beyond.
Today's architectural and engineering technology allows transforming conventional 20' and 40' shipping containers into beautiful and sophisticated homes that can be customized accordingly in almost any way imaginable.
Let's explore some of the shipping container house plans that are available so that you have a better idea of what's possible.
Floor Plan Options
When exploring different shipping container house floor plans, many people end up asking similar questions – just how much customization is possible and can a typical container really be transformed into a fully functional and convenient home?
Well, in this section, we'll go over the wide range of flooring, paneling, as well as window and door options that are possible when a container is prepared by an experienced shipping container fabrication services provider such as Conexwest.
With paneling, you can opt for plywood, vinyl wrap plywood, fiberglass reinforced fiber, or even regular drywall, which can provide your home with a feel and level of comfort that's just like any regular home built from brick and mortar.
And when it comes to flooring, the range of options is even more diverse.
Depending on the purpose of the room or area, you can choose beautiful laminate or carpet floors, or opt for more durable epoxy or steel floors, making sure that your 20' or 40' shipping container home plans are not only stylish but practical as well.
As far as doors go, you can go with traditional options like sliding glass doors, man doors, safe doors, or even powered Roll-Up doors, creating the look and feel of any regular home, with the range of added benefits that only a custom container home can offer.
You can also choose from a wide variety of exterior and interior paint options that can help your house blend with its environment. This also brings life to the rooms inside.
As far as interior customizations go, our experienced fabrication experts can provide you any functionality that you could possibly need for your dream home.
Whether it's beautiful bathrooms and kitchens, or even workstations with built-in desks and tables, we can take a container and turn it into a home that meets every single requirement that you might have.
The Conexbuilder
When thinking about the specific details of your project, such as the home floor plans for a shipping container, you may get lost when trying to imagine how it all can come together.
That's where the Conexbuilder can be incredibly useful.
It allows you to take your general ideas and vision for a shipping container plan and bring it to life via realistic 3D visualizations of your home.
The program allows for building a complete, custom shipping container home plan from scratch, showing you every detail in action and helping you see which aspects work well and which need to be reconsidered.
You can customize the size of the container and its colors, as well as add security, doors, vents windows, custom elements, partitions, and anything else that will be part of your project so that you have the full picture which you can then use as a starting point.
Want to try it? Just go through this link:
https://www.conexwest.com/conexbuilder
Instead of having to imagine what your home could look like, you can use the Conexbuilder as a framework for your project and share the shipping container home plans that you create with your contractor, or just allow Conexwest to realize that vision for you.
View the Gallery
While the Conexbuilder is an excellent tool for putting together your project, sometimes you need to see shipping container home plans realized in action to really be convinced that this is the right way to go in your situation.
For that, you can hop over to our Conexwest gallery, which displays a range of shipping container plans that have been successfully implemented.
Here's the link for the gallery: 
https://www.conexwest.com/gallery
As you can see, Conexwest has performed numerous transformations of containers, meeting not only our client's expectations but also fitting the project within their budget as well.
Plan for a Purpose
At this point, you have all the tools that you need to get started developing your shipping container home plans.
However, even though the fabrication options are virtually limitless, the ultimate driving factor behind the success of your project is a deep and specific understanding of what you're aiming to accomplish.
Before moving forward with your project, you must figure out precisely what you will be doing in the container, being crystal clear about the functionality that you require so that you can focus the budget on what really matters and not waste it on bells and whistles that while appealing, do not serve your needs at all.
Conexwest
Figuring out how to plan the perfect shipping container home is a challenging task.
Luckily, with the help of Conexwest, you can be sure that you'll receive expert advice and will be able to use your budget the best way possible. Browse our shipping containers for sale today, call us at 855- 878-5233x1 or contact us to get a quote today!