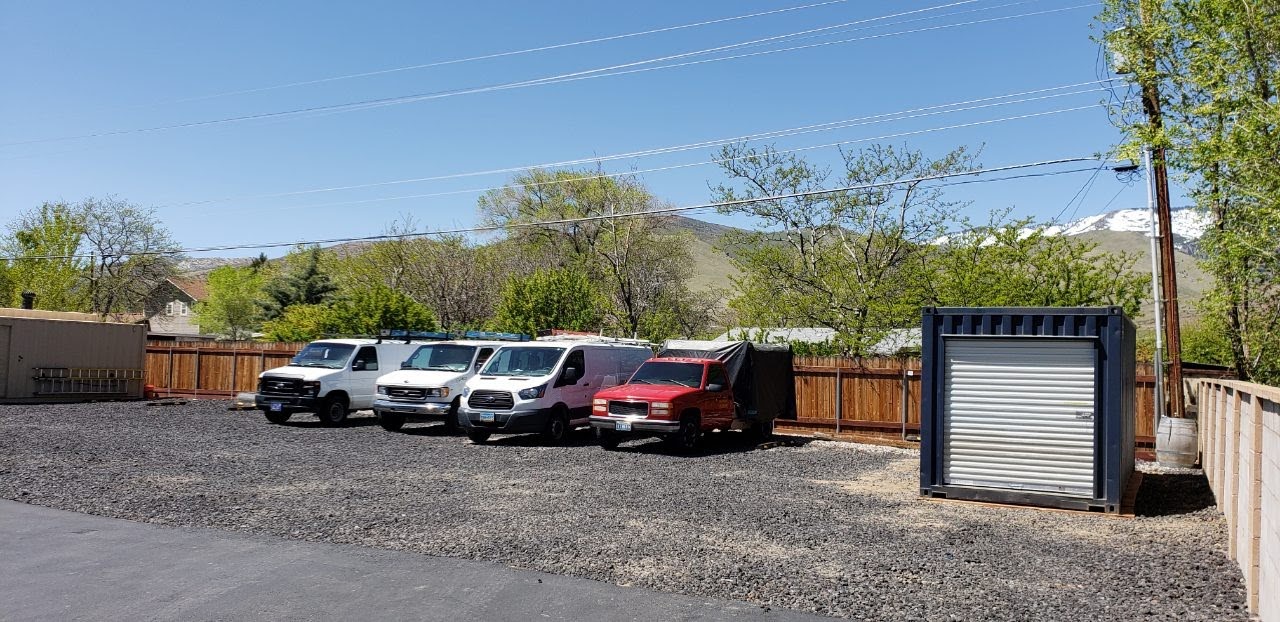 Benefits of a Shipping Container Garage.
Shipping Container Garage Benefits: The Best Plans for Storage
Benefits of a Shipping Container Garage
If you are in need of extra storage space at home but the price of building is prohibitive and moving to a larger house is not feasible, why not consider the idea of building storage space from a steel shipping container? If you have space, a shipping container garage will tick many boxes, including:
 
·     Affordability
·     Comfort
·     Durability
·     Practical
·     Safety
By opting for a storage container garage you have the guarantee of a weatherproof and safe storage space for your car and other valuable items that need dry, secure storage.   On top of this, building a shipping container as garage saves you time in comparison to the brick and mortar variety.  Once you have drawn up your shipping container storage plans, you will have the keys to your brand new storage space within no time - often within a few weeks you will have the keys to your brand new container garage.
What are the benefits of a shipping container garage?
1.   Security - one of the main concerns from clients who are considering a shipping container as garage is security. When you put your car away for the night you want to make sure it is safe, along with other valuable machinery we tend to store in a garage.  With shipping containers garage you get the added benefit of the special construction from corten steel panels that are both weatherproof and very secure. 
2.   Flexibility – because the storage containers for garage is made up of panels you can easily change the layout or size of your container garage. 
3.   Economical – if your budget is a concern – don't worry!  Garage containers have a low starting point – providing a safe, durable environment but if budget is not an issue, the sky's the limit. Keep an eye out for shipping containers for sale and you might even get a bargain!
4.   Easy installation – a shipping container garage is almost ready for use once delivered – even with modifications. The preparation before delivery is important but not complicated. .  The ground must be firm, we suggested paved or gravel on which to place the storage container garage. 
Some points to consider before investing:
1.   Type of container– when drawing up your shipping container workshop plans  you should bear in mind the type of container you will need.  You can choose a new container or you can check out some deals on used containers – always be mindful of quality and check thoroughly for cracks or deterioration on the body of the container. 
2.    Space– how much space do you have available?  This will determine the size of the container you can use.  The main sizes are 20' or 40' but can be modified to a range of sizes.  Remember that even  shipping container homes are becoming more and more of an alternative to the traditional brick and mortar solution -  all kinds of spaces and room designs can be created from shipping containers. 
3.   Safety and Security  - depending where you live, you might need to insulate shipping container garages from extreme weather conditions thus protecting valuable machinery and cars stored inside.  You may want to add windows or vents which can be custom built to give extra light and air but security for your valuable possessions should be given as much consideration as you would in your home – so alarm systems, perimeter fencing and heavy-duty locks are all ways of keeping everything safe..
What are the best garage storage containers?
The increase in the use of a shipping container garage is testimony to how people value them as an option for extra storage space.   They have all the features of a traditionally built garage, at a much-reduced cost and time frame.  
Most shipping containers today are made from steel, a strong, resistant material.  This is an important characteristic for durability and the resistance needed for your container garage.  
Sizes of shipping containers varies – from the 20' and 40' classic sizes that most people have heard of – there are many other options in between.   High cube containers (9' 6" tall) give extra height space for more storage space.
The best garage storage containers are bought from reputable companies who have experience in this field and who can help you choose the right shipping container for your needs – whether it be as a garage, a home or shipping container pools.  At Conexwest we strive to deliver the highest quality products and to give the best tips and advice for choosing and installing a shipping container garage.  Why not sign up for an email on DIY tips and promotions today, or call us for some expert advice on any queries you may have.