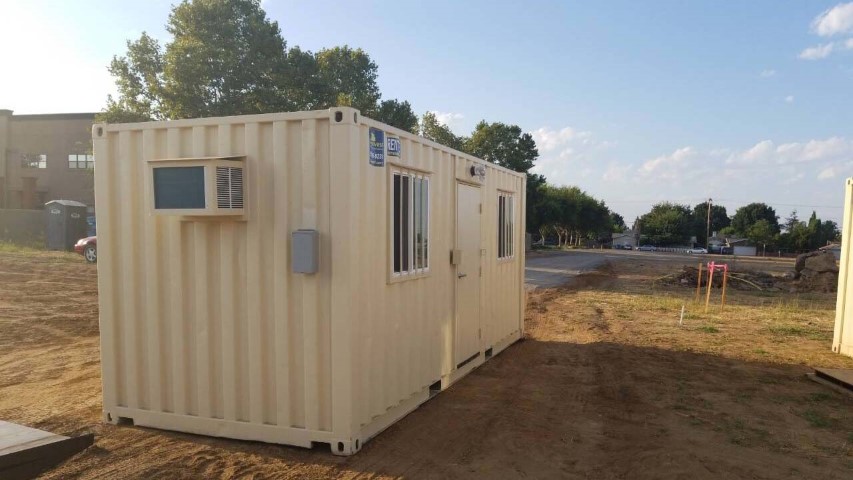 The Green Alternative: a Cargo Container Jobsite Office.
The Green Alternative: a Cargo Container Jobsite Office.
If you're in the construction industry and you've been asked to take on a multi-year renovation project, you need to make sure you have a place to manage your office logistics and operations. This will be your home base and help you stay on top of the industry's trends and make sure your business runs like a well-oiled machine.
As a contractor, you're responsible for managing your operations and costs. You're weighing your options, you could either work in your client's office or set up your own mobile office.
Having your own office space is preferable to operating within the client's environment; it provides a dedicated space for your team to collaborate without being disturbed, allowing operations to run more efficiently.
Considering setting up your own mobile office? A trailer may be an attractive option, but it's essential to remember that there are hidden costs that come with it. You could be looking at shelling out anywhere between $20,000 and $45,000 to buy one, or leasing one at a rate of $500 to $1,000 each month. That's not even including the cost of electricity and utilities. Once your job is done, what will you do with the trailer? Will you be able to make use of it again? Be sure to factor in the extra costs when making your decision.
Consider a Shipping Container Instead.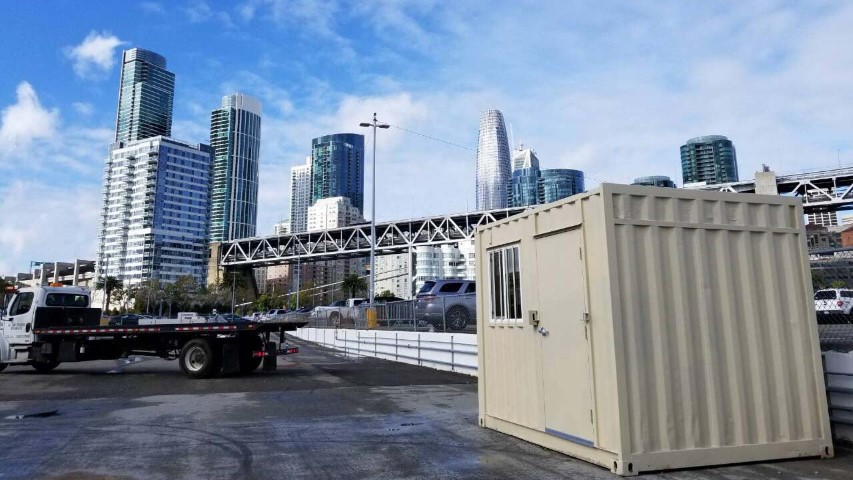 Over the next several years, the shipping and logistics industry will grow. That means there are more cargo containers available to buy. Steel shipping containers are valuable for transporting goods overseas.  And once there's no longer a use case for freight transport, the same cargo containers are repurposeable.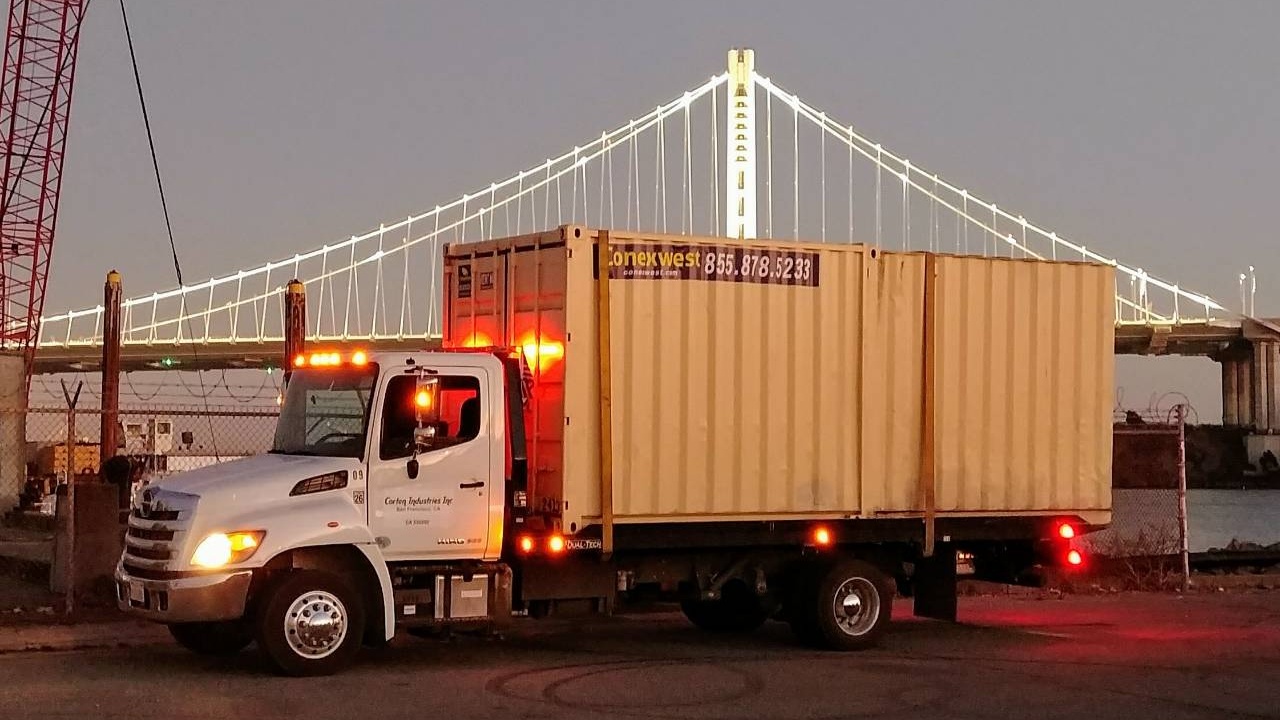 Have you ever considered using a shipping container for more than just storage? You can actually create a mobile work environment with steel cargo containers. These containers are great for creating a temporary office space because they are strong, secure, and easily relocated. Not to mention, they are a cost-effective solution for when you need extra space for your business. So, why not repurpose a shipping container into a portable office today?
They have a long life span (decades) and are fully customizable.

You can choose fabrications based on your needs, including double doors, windows, fans, and HVAC systems.

If you buy a used shipping container, you can refurbish it. That means, you can smoothen out dents, customize the paint color, add water-sealant, and more.

You can get one built and delivered fast to your job site, customized for the space that you need.

You can create a great visitor and worker experience, on any budget that you have.

You can move your cargo container to any job site location, which means that you'll reduce your overhead in the long-term.

You can use a shipping container to build any business that you want.
If you're in the construction industry, a shipping container could be a valuable long-term investment. Buy it outright and reuse it for multiple jobs. Use one to set up a permanent office. If you're working on multi-year projects - it's a practical solution that will pay off in the long run.
Incorporating Green Infrastructure.
Did you know that you can save a lot of money by making "green" choices with your building projects? Local governments also offer numerous tax credits for new construction with energy efficiency.
The problem is, new construction isn't for everyone. It's a complex process. You need to get permits, work with structural engineers, and find land for sale to build your project. But you already have this expertise. And you know that you can use a shipping container to build your vision, faster.
Why not add some financial benefits to your cargo container jobsite office?
Here are some ideas:
In other words, there are too many upfront cost-savings to ignore. Depending on your needs, you could turn your cargo container into smart-buildings. You could use these smart buildings to manage energy levels, control lighting, install cameras, and create security systems. Knowing that your structure is safe and watertight, you can sleep easier at night.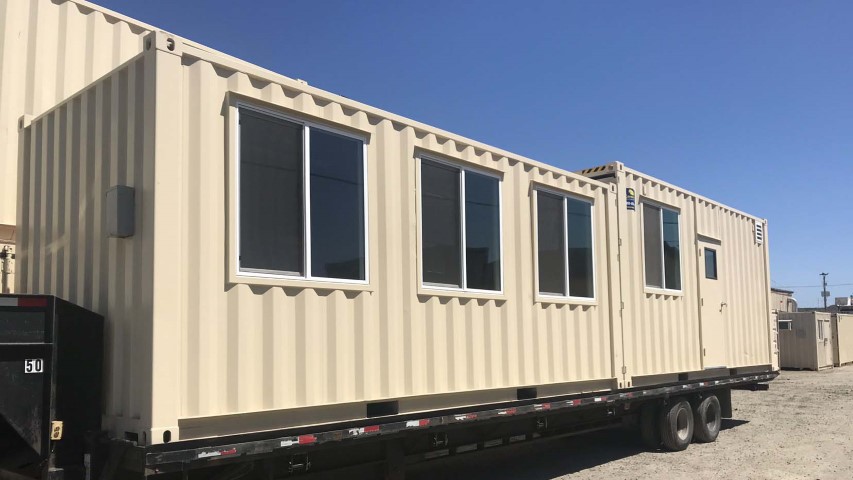 A Genius Investment.
As a contractor, you may not know where your next job is going to take you. You may need to unexpectedly create a new office. Or maybe you need a shipping container of a difference size.
That's okay.
Selling your very own smart-building shipping container with a lifespan of over 10 years is a great investment opportunity. Not only will you be able to make a profit, but the container is sure to hold its value over time. 

Small business owners are looking for unique and affordable office space, but they don't necessarily have the technical know-how to build it out themselves. If you have an unused jobsite office, don't let it go to waste! Recycle it and make it your own by turning it into a workspace for your business or a place to make your creative dreams come true.
Test Out Your Idea.
We've created a pipeline of high-quality, affordable cargo containers that are new and used. Our used containers have been discontinued by freight transport companies but still have plenty of life in them. We also have new shipping containers that only make one inventory run to the United States, so they are practically brand new. We also offer complete refurbishment services and can help you build anything.
The best way to get started with your idea is to start sketching. Conexwest has created a 3D builder, to help you experiment with different shapes and sizes of cargo containers. Get a head start visualizing what you want to build, so you can bring it to life faster.
Select any size or modification that you'll like. Save, reload, and print your configurations. Get building faster, with ease. We can help you get your project off the ground.
https://www.conexwest.com/conexbuilder