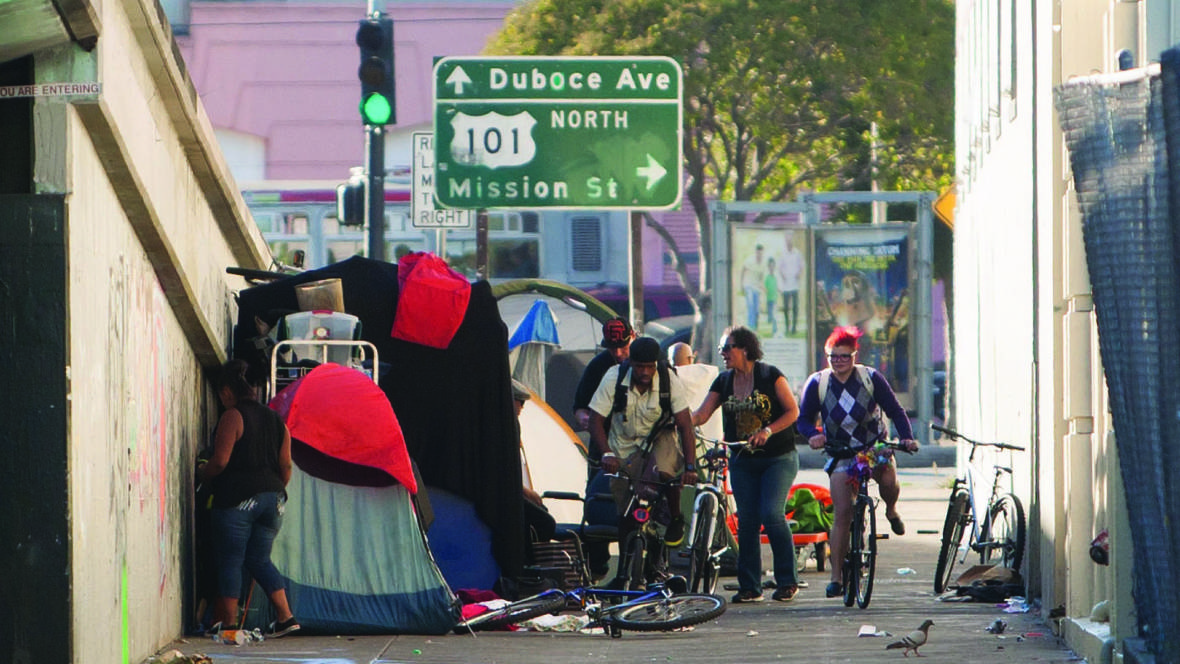 Cargo Containers: a Pathway for Stabilizing San Francisco's Homeless Problem.
Cargo Containers: a Pathway for Stabilizing San Francisco's Homeless Problem
San Francisco's homeless problem isn't going to fix itself.
Remember, at the end of the day, the people you see on the street are human beings like the rest of us. Some of San Francisco's homeless residents ran into bad luck. Others have experienced severe medical setbacks. Some have lost their jobs. Some have amazing jobs at tech giants but can't afford housing. They're known as Silicon Valley's "working homeless."
Just ask Jay, who frequently spends his time on Market Street. Lifetimes ago, he was an artist and poet running his own business. He was often the guest of honor at luxury events with celebrities. But 10 years ago, Jay's grandmother died and he spiraled into depression. He began losing the strength to run his business. Eventually, he lost his housing.
A Tale of Two Humans.
Jay tried hard to get back on his feet. He wanted to enroll in art courses at San Francisco's Academy of Art. But he couldn't because he didn't have an address or resources. He couldn't work. Eventually, life on the street took a toll on his mental and physical health. He developed schizophrenic tendencies. He couldn't afford or access medication because he didn't have health insurance.
Keep in mind, schizophrenia is nothing to fear — according to data that Google has aggregated from Mayo Clinic and others, the condition is common. There are 51 million people in the world with condition. Stigma aside, plenty of people live meaningful, valuable, and productive lives.
Today, Jay relies on meth to keep calm. He's afraid to talk to people because he isn't sure when he's going to lose control. He still sees hope for himself. He uses his mobile phone to take classes on Coursera. He checks email when he feels in-control of his mind and when he has access to a computer.
Imagine how different Jay's life could have been if he simply had a support system or place to live. Imagine how many people on San Francisco's streets, like Jay, who didn't choose this lifestyle. He's a human being who want to get better but can't.
"People ignore me and pretend that I'm not even here," said Jay. "I haven't had a conversation in about four years. But I'm happy here in San Francisco. The people here are chill. The weather's good. I feel safe."
Frustration Without Solutions.
Tech workers have another perspective for people like Jay. They simply don't have the life experience. They recognize the problem but don't know how to solve it. In some cases, the "tech elite" believe that solving SF's homeless problem should rest on the shoulders of the city.
"The wealthy working people have earned their right to live in the city," writes one worker. "They went out, got an education, worked hard, and earned it. I shouldn't have to worry about being accosted. I shouldn't have to see the pain, struggle, and despair of homeless people to and from my way to work every day. I want my parents when they come visit to have a great experience, and enjoy this special place."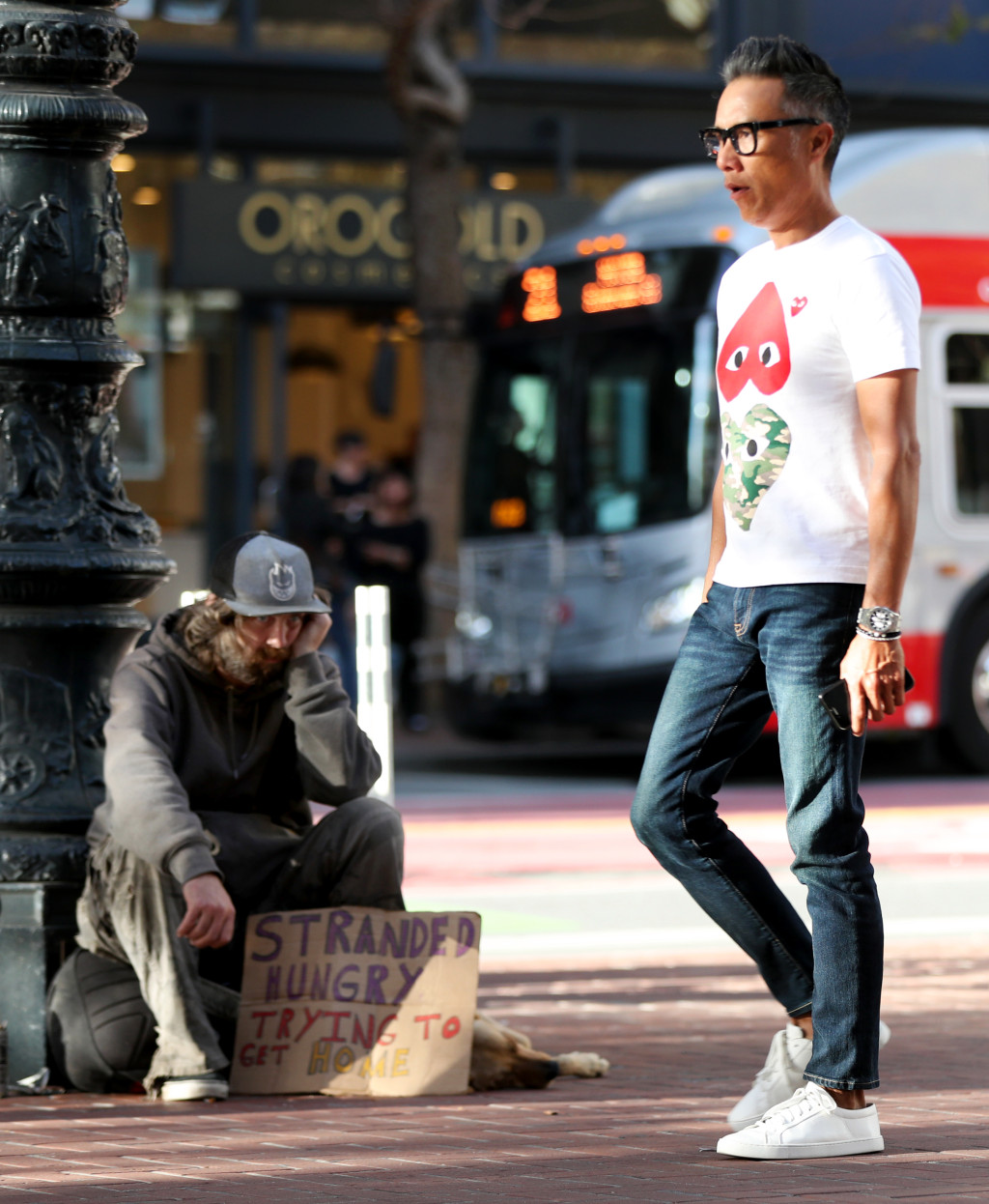 Yes, the needles on the street of San Francisco are hazardous. Yes, some members of the homeless population are dangers to themselves and society.
But if you look at the data, you may come to another conclusion from the worker referenced above. Take a look at the data behind SF's homelessness problem, and the following summary compiled by Heather Watkins of Better Impact Marketing.
In 2016, San Francisco had the third highest percentage of its total population experiencing homelessness, at 0.80 percent, after the District of Columbia (1.23 percent) and Boston (0.93 percent). We also have the highest percentage of unsheltered homeless in the country.

In San Francisco, 69 percent of individuals became homeless in the county, and 55 percent had lived there for 10 or more years.

31 percent of individuals counted during the 2017 PIT came from outside San Francisco, and many were newly homeless. Of the 3,149 individuals counted who had been homeless for less than one year, almost one-third (about 1,000) came from outside San Francisco.

One factor that may explain this high percentage of youth from other regions is that a disproportionate number of them identify as LGBTQ and end up in San Francisco when they flee from discrimination in their homes or communities.

The City helps roughly 2,000 individuals exit homelessness each year, but with an annual influx of roughly 1,000 newly homeless individuals from other cities, the cycle continues.
There's a clear pathway to help people exit homelessness. But the city does not have resources. That's why tech companies are chipping in. In May 2018, Cisco donated $50M to help curtail the homelessness issues in the city's backyard. That's a large sum of money that serves as a tax write-off. It also gives the business a positive public perception.
Companies Can Offer More Than Money
Across the Bay Area, land ownership is a funny thing. Some land is university or publicly owned. Quite a bit of land remains part of wildlife preserves. Many residents bought their homes decades ago and are passing down those homes to children. But companies own a lot of land, too.
Imagine what some shipping container tiny-homes could offer to these spaces. Transitional housing. A shot at upward social mobilities for individuals and families who are willing to work hard. Companies could reclaim the space that they need, when they need it, when they're ready to sell or build. Businesses could team up with local organizations, rotary groups, and city governments—give the Bay Area's homeless population the support system they need to take their next steps in life.
Take a look at what's happening in Los Angeles, as an example. There's talk of a vacant lot near the 110-105 interchange offering housing to the homeless. Imagine what this lot could become if a corporation sponsored it. Think of what a fraction of a $50M budget could offer.
Why Steel Shipping Containers?
For decades, steel shipping containers have provided shelter to people. San Francisco has one of the biggest concentrations of wealth and talent in the world.
Conexwest would love to partner with municipalities, non-profits and other organizations to help solve this problem together. Get in touch! We have the best inventory in the industry and can help you get your design idea off the ground, and work with leading corporations around construction needs.
Authored by Ritika Puri.