Benefits of Car Storage Containers.
Car Storage Containers for Shipping & Parking | Conexwest
Benefits of Car Storage Containers
Vehicles are among the most valuable cargo items that are shipped both nationally and internationally. Typically, when a person opts to ship a vehicle, it is because the car is a collectible, is expensive, or is a treasured heirloom or project they do not want to part with.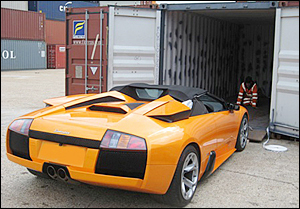 Whatever the circumstance may be, both individuals and businesses who ship cars want to know the vehicle will arrive in the exact condition it was in when it left.
Thus, only the most high-quality, market-leading car storage containers will do the job.
Fortunately, there are a great number of automotive storage containers available on the market today— each uniquely designed to preserve vehicles at every stage of the shipping process.
What are some of the benefits of car storage containers?
If you are new to the idea of vehicle storage containers, you may be wondering "Why should I invest in a container when I'd pay less for open-air shipping?".
Yes, it is true that open-air shipping methods are typically more budget-friendly than paying for a car shipping container. So, if pricing is your only concern, open-air shipping may be the right solution for you.
But when you factor in the advantages of transporting your vehicle in a car container, your opinion may change.
Some of the benefits associated with car storage containers include:
Increased Insurance
It is always recommended that luxury vehicles, classic cars, and collectible automobiles be transported using an auto storage container, as the vehicle will receive greater insurance coverage if delivered this way. 
Vehicles that are stored in a car container are more likely to be covered for theft, as well as damage to the unit itself. Due to the fact that open-air shipping exposes cars to extreme weather conditions, rock chips, and dents and dings caused by bumpy roads, insurance companies are less inclined to offer extended coverage on this type of transportation.
Less Risk
Car storage containers protect your vehicles from a number of problems. From damage caused by hail, dust, or sun exposure, to break-ins and theft— vehicle storage containers provide a level of protection that open-air units can't compete with. Furthermore, when your car is stored within a container, onlookers aren't able to identify what's inside. This is especially useful for individuals who are shipping vintage or luxury automobiles since these models are more likely to pique the interest of thieves and criminals.
Exclusivity
When you transport your vehicle using a car storage container, you ensure that your automobile is the only item in that container— a perk that open-air transportation companies can't provide. These companies ship your unit on large exposed trailers, which can have multiple levels, and often place your car between other vehicles.
Additionally, because you are paying for the space your auto storage container provides, you can opt to include other personal items in your shipment, if it interests you. This is particularly convenient for customers who are relocating to another city and have additional personal items they'd like to move.
Can multiple vehicles be shipped using a single container?
In a nutshell? Absolutely.
Of course, the more automobiles you require your car shipping container to hold, the more expensive the container will be. But for clients who need to ship machinery, equipment, or multiple vehicles, the additional cost is always worth the expense. 
At Conexwest, we have several car storage containers that are capable of shipping multiple units. Our 45' high cube storage container, for example, is slightly larger than a two-car garage and can accommodate a maximum gross weight of 32,475 kg.
We also have a 40' car shipping container that features swing doors on both ends for convenient on-boarding and off-loading.
How much does it cost to ship a vehicle using an auto storage container?
The first financial decision you'll need to make regarding shipping your vehicle is whether or not you want to purchase a car container, or simply rent one.
Renting is a far more budget-friendly option, especially for individuals who do not plan to regularly ship automobiles as part of a business.
At Conexwest, our car storage container rentals start as low as $89.00.
Next, you will need to consider how your car container will be transported. Ocean freight will be subject to Bunker Adjustment (BAF) and Low Sulphur Fuel Surcharge (LSF) fees, and your shipment may acquire security fees and terminal handling charges (THC) if shipped on the ground.
Lastly, you'll want to consider hauling fees. These fees will vary depending on the transportation company you hire and what the pricing options they provide.
Pricing Example:
The average price range to ship a 40 ft car storage container from the U.S. to the United Kingdom is $1,200.00-$2,000.00, without factoring in taxes, duties, insurance, and other associated fees.
Helpful Tip:
Many car transport companies will provide customers with a discount if they ship more than one vehicle.
Additionally, some companies allow customers to share a single container, which can cut the price of shipping their vehicle by half.
If you're concerned about the costs associated with vehicle storage containers, it's always advisable to speak to your chosen transportation provider about options to reduce your expenses.
How Conexwest Makes Car Shipping Simple
At Conexwest, we not only have car shipping containers available for rent or purchase, we also offer delivery services and custom fabrication.
We really are a one-stop-shop for all of your container shipment needs. Our trained and experienced haul truck drivers have the hands-on skills required to deliver your freight successfully, and our friendly dispatchers can organize all the details.
We also have an impressive inventory of parts and accessories, allowing us to customize your shipping container in advance to best meet your needs. From ramps to lock boxes, we've got you covered.
Have questions about your storage system? Please phone us about your container rental at (855) 878-5233 or email us at [email protected]. We want your business. Let us compete with other quotes.
Would you like an all-inclusive price quote? Submit your rental details through our web form.