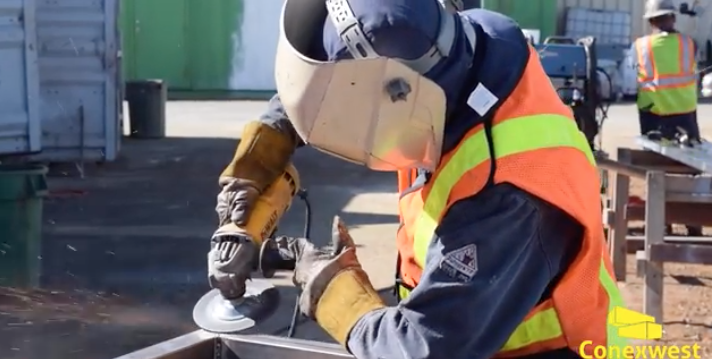 Build a living space from a steel shipping container.
Build a living space from a steel shipping container.
Across North America, there's a need to build more living spaces. Construction isn't happening fast enough. Homes are becoming too expensive. It's tough to find the right property. For many people, remodeling isn't an option.
One alternative? Build a living space from a steel shipping container. Give yourself a month or two of time. You can create a structure that's affordable, comfortable, durable, and practical. Financially, you can also control your costs.
Need something that's going to last and a large space? Expect to invest $50,000 or more. Need something simple like an extra space or home office? $10,000 is enough budget to build and furnish something simple, mobile, and secure. These living spaces have the potential to last for decades.
In many ways, steel shipping containers make more sense as financial investments than traditional brick and mortar homes. All you need is a plot of land, materials, and the right crew.
Here are some simple steps to help you get started.
Step 1: Explore Options for Base Structures
Keep in mind that you're creating a living space, not a storage facility. It needs to be weatherproof and comfortable.
Here's what to think about when choosing your base:
Air flow. When choosing a shipping container, you need to ensure that it's safe for people to breathe. If air can't flow, your shipping container's inhabitants could get sick. Imagine: problems related to mold, carbon monoxide, or other toxins.

Connection to services. Do you plan to have a bathroom in your shipping container? If you're up to the challenge, you could build an entire house. You can install plumbing, with full washer/dryer and shower features if you want.

Materials. The quality of steel and shipping containers can vary. Be prepared to work with a design advisor to choose a Cargo Worthy (CW) container to meet your unique needs. CW graded containers are units that have been inspected and deemed worthy to be used in international maritime shipping. They have no defects or damage that would threaten it's integrity or ability to be used for transporting cargo around the globe.
A good first step to take is to explore some options. Take a look at this 20' modified storage container by Conexwest as an example:
You can also browse the Conexwest gallery, here:
https://www.conexwest.com/gallery
Step 2: Create Your Project Plan
Step one gives you an understanding of the basics. Now, get ready to create a project plan. For inspiration, you can browse:
YouTube. Take a look at videos to see what others are building.

Interior Design Blogs. Google different spaces for ideas.

Instagram. Search for hashtags around tiny homes, shipping container homes, etc.

Architecture Blogs. Don't reinvent the wheel. Browse living spaces that others have created.
With a project plan in place, you can purchase materials with confidence. For instance, Conexwest makes it easy to buy shipping containers, modify, and refurbish what you need. With container sizes ranging from 10 to 45 feet in length, there is a size available to accommodate nearly any project. Through our groundbreaking and exhaustive fabrication process, we maintain the highest standards of production and quality assurance to ensure that each storage container is durable, secure and leak proof.
Figure out what you want to build. Then, choose the materials that support that goals. At this point, don't commit to purchase anything. You need to make sure that your building concepts are up to code.
Step 3: Plan Paperwork and Inspections
Check with your city to see what permits you need to build your structure. Consider working with inspectors and local regulators to make sure that your steel shipping container structure will be compliant.
Even if you want to build your own living space, you'll find value in talking to a contractor. It's better to learn from others' experience than to make a possible mistake. We've serviced over 10,000 customers. Share your ideas with us! We're happy to make suggestions and offer our expertise.  Here are some details that you'll want to figure out:
What permits do you need to build your structure?

Are there inspectors or contractors who specialize in building with steel shipping container?

Does your structure meet local fire and safety standards?

What steps can you take, based on your wishlist or project plan, to improve upon your original vision?
After step 3, you may need to change your original project plan. Be patient. In the long-term, the planning will be worth your time. We'll help you to stay away from potential costly errors. You can choose materials based on what will be proven to work.
Step 4: Choose Your Fabrication
Custom fabrications are possible for any steel containers. These are essentials you'll need to make your space habitable and safe. Some options you'll want to consider include:
Lock boxes

Power vents

Roll-up doors

Sliding glass doors

Flooring

Carpeting
In addition to security considerations, you'll also want to think about look and feel. Will this living space be more desirable with carpet or a steel floor? Do you plan to install a kitchen? If so, what type of ventilation will you need?
Final Thoughts
It's tempting to jump to the bells and whistles of a steel shipping container living space. With the amount that you save on construction, you can invest in furniture, bath accessories, and other fixtures.
While these details are important, don't focus on them in the beginning. With the right bare bones in place, you can build anything you want. From lamps to lighting kits and removable shelves, there are many simple ways to maximize your container's environment.
Start with a strong foundation. Build it better.