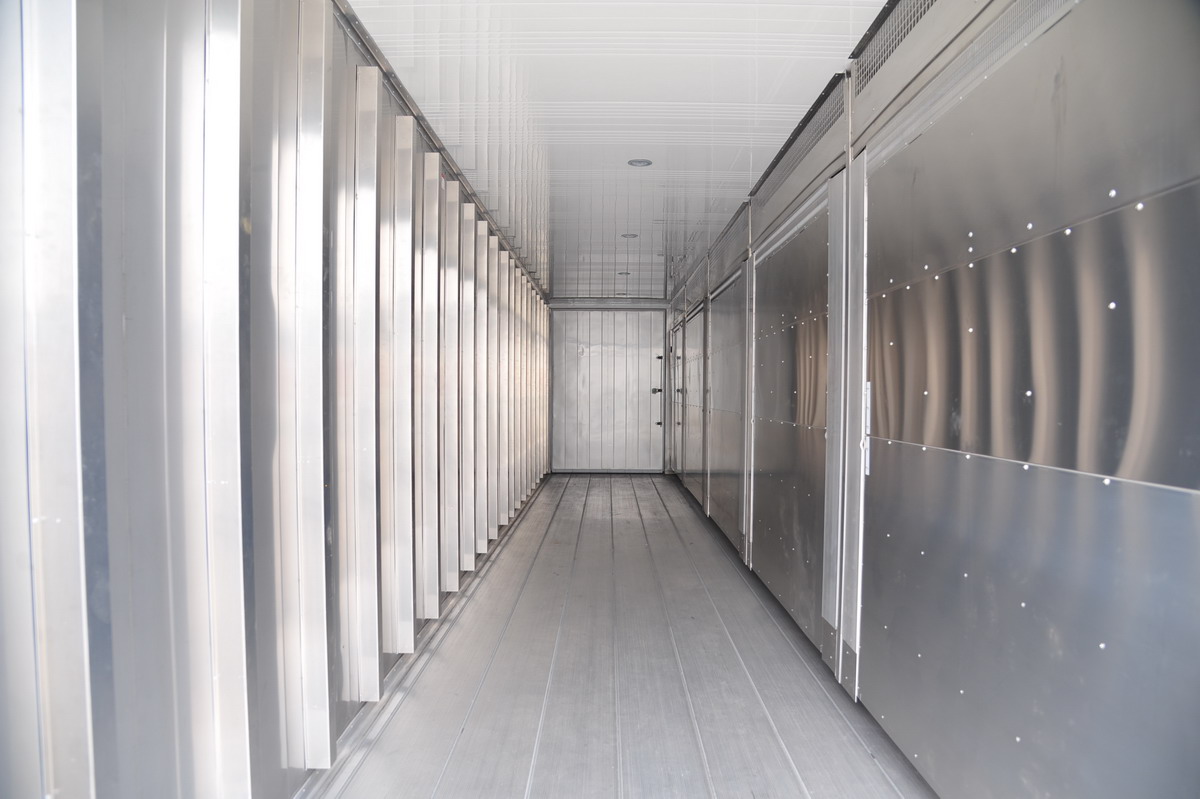 40ft Blast Freezer Container for Sale
40ft Blast Freezer Container -40°F to 70°F
40ft Blast Freezer -40°F to 70°F
40ft Blast Freezer -40°F to 70°F
Cold storage blast freezer
Temperature range -40°F to 70°F
Requires five power supplies 460 V 3 phase or 230 V 3 phase with optional transformer
Easy-open butcher door
Flat floor
LED Interior lights
Walk-in curtains
Total capacity of 21,800 Kcal/hr (86,000 Btu/hr) ambient 100°F (37.8°C)
Calculated on average values 44,000 lbs of fish will be cooled to 0°F(-18°C) core temperature from 41°F(5°C) in approx. 35 hours.
Internal capacity
55.6m3 (1,963 Cu.ft)
Door opening dimensions
Width 1,737 0/-5 mm (5'-8 25/64" 0/-3/16")
Height 2,537 0/-5 mm (8'-3 7/8" 0/-3/16")
Cargo access height 2,537 0/-5 mm (8'-3 7/8" 0/-3/16")
Ratings
Max. Gross Weight 30,480 kg (67,200 lbs)
Tare Weight (excl.Unit) 4600 kg (10140 lbs)
Tare Weight (incl. TK Magnum Plus Unit 1850 kg) 6450 kg (14220 lbs)
Max. Payload 24030 kg (52980 lbs)
Insulation
Item Thickness Density
Roof 90mm 40-45 kg/cu.m
Side walls 65 mm 45-50 kg/cu.m
Door panels 81 mm 45-50 kg/cu.m
Floor 51/111 mm 50-55 kg/cu.m
Heat leakage value
Umax = 60 kcal/deg.c.hr. at the mean wall temperature 293 K (20 °C).
Max. air leakage value
Qmax = 16 m3/hr. (incl. reefer unit max. 0.5m3/h) measured at 250+-10Pa.
This 40ft blast freezer container will be delivered using only one option:

40' Truck and trailer
This truck and trailer can fit one 40ft blast freezer container. Requires 100ft straight line for drop-off. Read more
here
Local delivery starting at
$350
* Rates listed are for reference only. Taken from 3rd party website.
Local rental companies in Northern California.