Truckee Tahoe airport
shipping container tower project
Shipping container airport tower project
In a small town called Truckee, CA; the Truckee Airport was in need of an airport tower. The airport tower is a vital part of an airport to ensure the communication for flights as they arrive to the airport or depart from the airport. 
About the Truckee Tahoe airport
As mentioned in their website, "since 1958, the Truckee Tahoe Airport District has been providing a high quality, safe facility for pilots, visitors and the community. Nestled in the Sierra Nevada mountain range at an elevation of 5,900 feet, twelve miles from Lake Tahoe, we promise one of the most scenic flight and visiting experiences in the world. We are proud of our pilot safety and community programs, state-of-art energy saving facilities and top notch staff and leadership. We are committed to offering the best small, mountain airport in the Country."
To view their website Click Here.
Conexwest provides to build
The Truckee Tahoe Airport has been opened for 60 years now!  With an amazing reputation of service and giving to the community, there was no chance Conexwest would turn down such an amazing project.
We began our project with Truckee Tahoe Airport district because we wanted a challenge that will allow us to learn, continue providing our users with the best possible service around and ensure a unique and durable product. The airport tower was created by modifying the use of six 40 FT shipping containers. These 40 FT shipping containers were were stacked on top of each other and joined together side by side. Once welded side by side, the walls that were once there were removed to allow people to walk through both containers.  By joining the containers side by side, this allowed a wider range to store and create a space for the tower to use as they pleased. The staircase on the side of the building was later then customized and put together to allow workers to go up and down the tower. Similar to regular airport towers, height is important due to the radio frequencies it uses to communicate with arriving and or departing air crafts.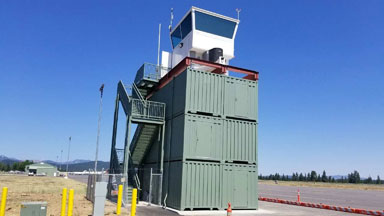 This project could have not been successful if it wasn't for the amazing and talented welders and carpenters. We provided the shipping containers and make sure the masterpiece is created. There are many projects we have done in the past, and many other projects getting ready to be made. 
Sign up!
Sign up to our subscription list to stay connected with our blog post and or any other promotional events we will be having in the near future! Click Here!
------
If you are interested in starting any project, feel free to call us at (415) 900-3180 or email sales@conexwest.com