Discovering Shipping Container Restaurants.
The Rise of Shipping Container Restaurants
Discovering Shipping Container Restaurants 
When it comes to dining out, people love to try out new experiences.
So, it's understandable that restaurant owners are taking notice and putting effort into coming up with innovative places and solutions for housing their restaurants while also cutting costs at the same time.
Therefore, it's no surprise that storage container restaurants are popping up all around the world.
But what makes starting a shipping container restaurant such a popular option these days? 
Well, let's dig into the underlying reasons for the new trend and figure out exactly why it started.
How Shipping Container Restaurants Became Popular
The shipping container restaurant rise to popularity is not at all surprising – containers have been repurposed by construction companies and other businesses for decades, so it was only a matter of time before aspiring restaurant owners decided to give it a go as well.
But the reasoning goes deeper than mere chance.
Shipping containers restaurants are ideally suited as a starting base for new restaurant owners, and there are a few main reasons for why that's the case.
First off, it's the low price – converting an old shipping container into a trendy restaurant is very affordable and can allow getting started on a much smaller budget than when operating in a more traditional space. 
The second huge benefit is the mobility of restaurant shipping containers, which allows owners to change the location of the restaurant as quickly as a day or two. While there are obviously other considerations like permits, the transportation itself is straightforward, which is a massive benefit as the owner doesn't have to commit to a single location and can change places as he sees fit.
Finally, the owners can start out small with their shipping container restaurant design, and then grow it by stacking or combining multiple containers as necessary in the future. 
With the advanced customization options that are available, shipping container restaurants can be modified in many ways, and any necessary amenities can be added at any given time, giving these types of restaurants a considerable advantage over traditional restaurants located in a physical location.
The Best Shipping Container Restaurants in the World
Since restaurant in shipping container solutions are becoming more popular every year, let's look at some of the coolest examples of these types of restaurants that have become symbols of the areas that they operate in.
Singapore Takeout, London
One of the best illustrations of just how effective a shipping container restaurant can be is the Singapore Takeout restaurant in London, United Kingdom.
Located in one of the busiest and most competitive cities on earth, this simple container restaurant was able to thrive because it provides authentic food without having to deal with astronomical overhead costs associated with operating in London.
The restaurant has been a resounding success, attracting not only tourists but also locals and introducing them to authentic Singapore cuisine.
Although the restaurant is created from a shipping container, don't let that fool you – it has a fully functioning kitchen and everything you need to enjoy great food.
Its owners are planning to make full use of the mobility of restaurant storage containers and take their restaurant to different cities across the globe. 
Subway, Freedom Tower, New York, United States
The low shipping container restaurant cost makes them popular with smaller or startup restaurants, but that doesn't mean that a shipping containers restaurant can't be used by large food chains.
One such example is the Subway restaurant located at the New York's Freedom Tower, where a shipping container has been converted to an eatery to help feed the workers that were working there.
And since it was hydraulically supported, the restaurant could be moved to the level where the workers were operating at any given moment. 
MuvBox, Montreal, Canada
Painted in an eye-catching red, the MuvBox container for restaurant will immediately draw your eye as you're walking past it in Montreal, Canada. 
The restaurant prides itself on taking an environmentally-conscious stance and making sure to leave as little of an impact as possible. The restaurant was built using an old shipping container, runs on solar power, and transforms into an easy-to-transport shipping container during the night.
SnackBox, Times Square, New York, United States
The SnackBox storage container restaurant was a thing before shipping container cafes and restaurants were such a big trend as it is today.
It's an iconic landmark on Times Square that serves thousands of people every year.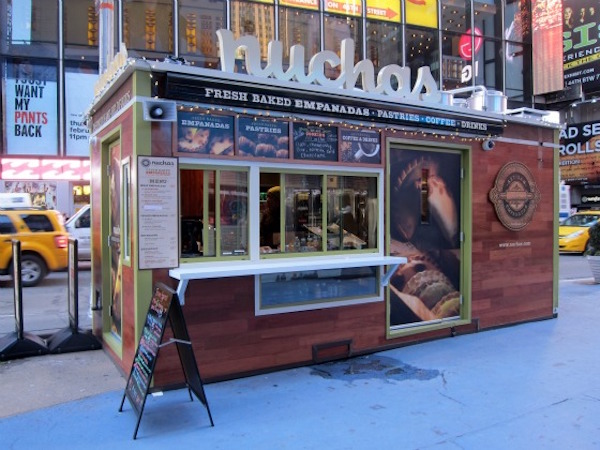 The black striped container restaurant features staple New York foods like hotdogs, as well as other snacks, and great coffee.
If you're ever in New York, be sure to check out this excellent example of how a simple design based on a shipping container can not only be functional but actually excel because of its unique style. 
If you want to learn more about how to convert a container into a restaurant or want to find a shipping container restaurant for sale, look no further than Conexwest – we have a range of options for different types of restaurants and can help you find a solution that matches your needs and your budget. 
Call us at (855) 878-5233, and we'll help you get started as soon as today and find the best used modular restaurant buildings for sale or help you develop the project of your dreams from scratch!