Open Top Shipping Containers for Sale.
Open Top Shipping Container Options For Sale
Open Top Shipping Containers for Sale
When looking for the right container, it's essential to find an option that suits not only your budget but also the specific cargo that you will be transporting.
Some types of cargo cannot be loaded into a container using its cargo doors, which can cause problems and delay shipments if no solution is found.
Luckily, with the help of an open top shipping container, the problem can be solved without causing additional inconveniences – these types of containers allow cargo loading from the top, ensuring that the shipment is undamaged and loaded more effectively.
Once the cargo is placed, open top containers can then be sealed using a soft-top or hard-top roof, depending on various factors like the length of the trip and the conditions that the container will be exposed to.
But to make sure that your cargo is transported securely, you need to find a container that's right for the job, so let's explore some of the most important aspects to consider when making the decision.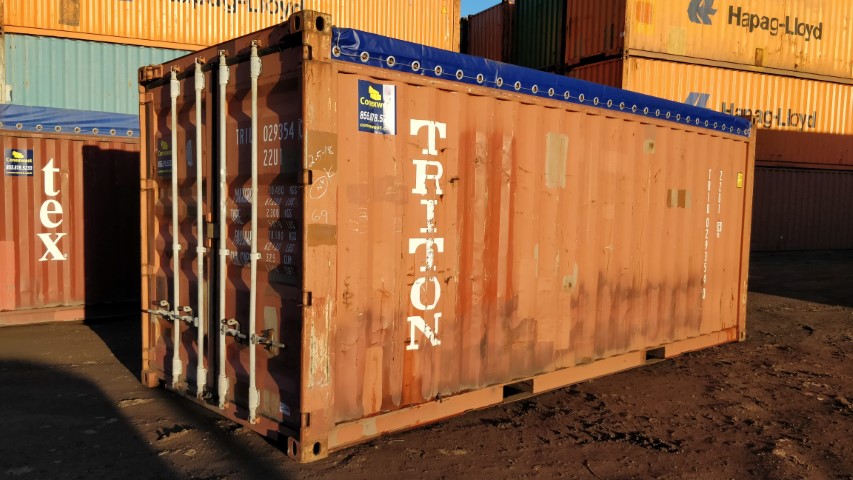 The Best Open Top Shipping Containers
When choosing an open top shipping container, you need to prioritize quality because otherwise, you may end up with a faulty container that could damage your shipment.
Open top means that the container is more vulnerable to begin with, so you need a company that can help you understand the risks and guide you in finding an option that meets both your cargo requirements as well as your budget.
And at Conexwest, we have the experience of serving over ten thousand customers across the United States, including clients like the U.S. Navy, Google, Lockheed Martin, and countless others who take the quality of shipping containers for sale very seriously.
Our open top container selection will help you load cargo from above and will speed up your loading and unloading times, saving you time and hassle while also protecting your cargo.
Once the cargo is placed inside the container, it is then secured using a tarpaulin top that protects it from the elements. In some instances, we can even offer a removable steep roof option as well.
At Conexwest, we take pride in making sure that every single one of our open top containers meets the requirements of our clients, and strive to provide the most cost-effective solution that gets the job done.
What Are Open Top Shipping Containers Used For?
Shipping containers with an open top can have multiple uses, but mainly, they are used in situations where it would be inconvenient or even impossible to load the cargo using the container cargo door.
One instance where an open top shipping container can be handy is when loading large or bulky items such as heavy-duty construction materials or equipment, logs, steel beams, or anything else that needs to be lifted using a crane.
Another use for open top containers is loading minerals or grains that need to be placed from above because it is much faster and more convenient than trying to insert them through the doors.
Sometimes, it only becomes apparent that an open top container might be necessary after trying to fit the cargo into a closed container, which can incur additional expenses, so it's best to plan ahead and think about which loading process would be more efficient and require less effort.
Our extensive range of open top containers ensures that you'll find an option that suits your specific cargo and is of the right size while also meeting any other specifications that matter when transporting your goods.
Advantages of Open Top Shipping Containers
There are many advantages to choosing an open top container,  but it's important to understand the situations where their use makes the most sense, as it's not always the right choice.
The most obvious benefit of using this type of container is the flexibility that it can offer in terms of the cargo that you want to load. Instead of being restricted by the height of the shipping container or by the door size, you can upload larger and heavier items using a crane, which is not only faster but also safer.
The added potential of using open cranes means that even heavy-duty goods can be loaded and unloaded relatively quickly, so if you're looking for a secure and quick way to ship, it might be worth the additional expenses of hiring a crane.
If you want to find an open top container solution that is right for your needs, or even if you wish to consult the experts at Conexwest regarding the best way to proceed in your situation, please call (855) 878-5233, and we'll be happy to answer all your questions and help you make the right choice.