Open Top Shipping Containers for Sale
Open Top Shipping Container Options For Sale
Open Top Shipping Containers for Sale
Do you need a fast, cheap and easy way to transport large and bulky items like construction materials, machinery, and trucks? How about bulky store inventory items like furniture, large pallets of vegetable and other wide equipments that can't fit through the shipping container cargo doors?
If so, our open top shipping containers may be what you need to get the job done. Open top shipping containers are like regular ISO shipping containers but the steel roof panels are removed and replaced by either a soft top or a hard top roof. These types of containers allows you to load and unload your cargo quickly from the top instead of through the top.

Not only will you save time, money, and a whole lot of frustrations, but you'll also be ensuring that your cargo will be less likely damaged by trying to fit it through the cargo door.
Selecting the right container to fit your cargo needs will make or break your project. Therefore, it is important to take into consideration the following factors when making the decision.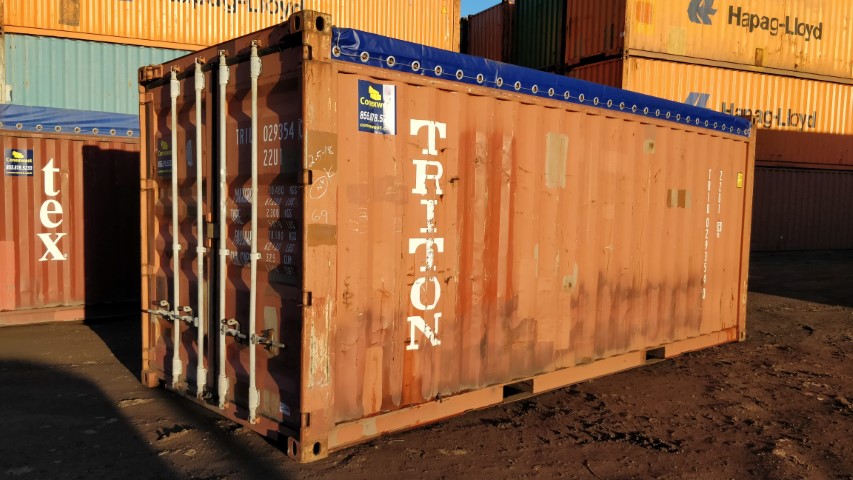 The Best Open Top Shipping Containers
When choosing an open top shipping container, you need to prioritize quality because otherwise, you may end up with a faulty container that could damage your shipment.
When shopping around for open top containers, make sure to choose quality over quantity. Inspect the container throughly to make sure it is structurally sound before making any purchasing decisions because without the roof the cargo container is more vulnerable. You need to work with a company that understands the risks and rewards of open top shipping containers. Make sure that they have a huge selection in their inventory so that they can match your needs and most importantly, your budget.
Here at Conexwest, we have the experience of serving over 10,000 customers across the United States, including clients like the U.S. Navy, Google, Lockheed Martin, and countless others who depend on the high quality products.
Our open top container selection from 20ft to 40ft in length will help you load cargo from above and will speed up your loading and unloading times, saving you time and hassle while also protecting your cargo. 
Once your cargo is lowered safely inside the container, it you can protect it from extreme weather using a tarpaulin top or a removable steep roof option. 
At Conexwest, we take pride in making sure that every single one of our 20ft and 40ft open top containers meets the requirements of our clients, and strive to provide the most cost-effective solution that gets the job done.
What Are Open Top Shipping Containers Used For?
Shipping containers with an open top can have multiple uses, but mainly, they are used in situations where it would be inconvenient or even impossible to load the cargo using the container cargo door.
One instance where an open top shipping container can be handy is when loading large or bulky items such as heavy-duty construction materials or equipment, logs, steel beams, or anything else that needs to be lifted using a crane.
Our clients find using an open top container handy when they need to transport heavy duty construction materials and equipments like lumber, steel beams and everything else that needs to be supported by a crane. When they can't miss or delay a shipment, they usually opt for open top shipping containers instead of wasting time trying to fit their cargo through standard swinging doors.
Another use for open top containers is loading and unloading minerals or grains that can be dumped from above, then covered instantly from the top. In our own yards, we often use the open top containers, to store scraps and other non-hazardous waste materials instead of traditional dumpsters. 
Most people only realize that they need an open top container when it's already too late. They waste so much time trying to fit oversized cargo into a standard ISO container which can damage the cargo and incur unnecessary additional expenses. We find that it's better to plan ahead and really think about which loading/unloading method would be more efficient.
With our huge selection of open top containers, you can be sure to find the perfect fit that meets your cargo requirements, size specifications, and any other needs you may have.
Advantages of Open Top Shipping Containers
There are many advantages to choosing an open top container for your projects. Open top containers open up the possibility of safely loading and and unloading large and bulky items. The flexibility of options to access your cargo is also a huge benefit. You can either access your open top container through the wide doors or from the top with a crane. 
If security is a huge concern, you can use the hard-top version instead of a tarpaulin. Open top shipping containers can be modified easily with our fabrication team. We even turned one into a swimming pool! As you can see, the possibilities are endless.
Choosing the right container for your company isn't always easy. Even after reading through this guide, you may have even more questions than before. No worries, our open-top container experts are happy to answer all of your questions! Feel free to reach us through our contact form or by getting in touch directly at (855) 878-5233.