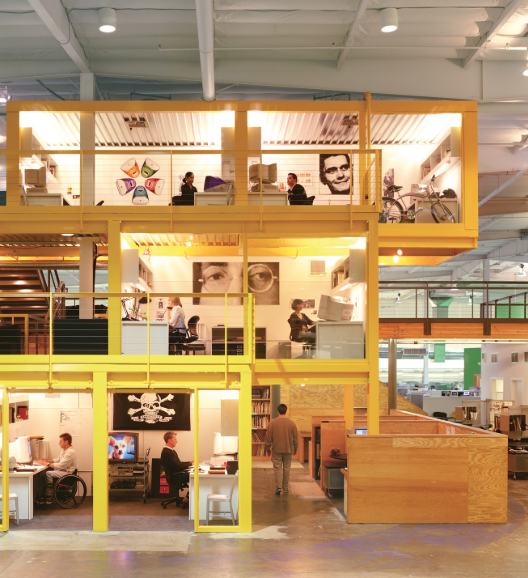 The Future of Smart Buildings in San Francisco: Steel Shipping Containers.
The Future of Smart Buildings in San Francisco: Steel Shipping Containers
Across the United States, the commercial real estate industry is in a stage of change. There isn't enough office space to meet rental demands in cities with employment growth. Consider the case of San Francisco. As of 2016, it's most expensive to rent office space in SF than in Manhattan. And if you're thinking about leasing a co-working space? Popular office locations have wait times of up to 2-3 years. It's common for companies to move multiple times, as a result.
Think about the lost productivity and the costs that accrue from moving, over time. Especially during critical times of company growth, the last thing you want is a pause. And you need resources, upfront, to build new space.
Because of San Francisco's unique market dynamics, the market for short-term leasing (i.e. coworking spaces) has ballooned. Office rents are at an all-time high. There's a need for new construction, but few companies have the capital to build new structures from the ground up.
One solution: build office spaces with steel shipping containers.
101: Why steel shipping container offices?
New construction, especially in the San Francisco Bay Area, is risky. First of all, the region is known for being on earthquake fault lines. One natural disaster has the potential to wreak havoc on a company's operations.
Consider the case of Millenium Tower in Downtown San Francisco, a relatively new building with luxury condominiums. The structure is sinking into the ground. Tenants say that their investments are "nearly worthless." Imagine owning or leasing space within that building to run your company. Your San Francisco based business can't afford to take the real estate hit.
At the same time, the City of San Francisco still has land parcels that would be great spaces for commercial development. To see what's available, in the City alone, you can browse an inventory of commercial land, here.
Instead of waiting on endless waiting lists for coworking space, imagine the following scenario:
Team up with a network of founders

Purchase land

Build office space, with potential to expand, using shipping containers
You might have heard about the tiny house movement. Everyday consumers have found a loophole to the exorbitant costs of high construction. Small businesses are catching on, too. Consider the case of Smitten Ice Cream, a venture run by a local entrepreneur. After developing a process for making ice cream out of liquid nitrogen, she started selling her product out of a wooden wagon. By 2011, she was ready for a storefront. She opened up a shipping container location in Hayes Valley. Since opening, that location has become one of the highest-rated hangout spots in San Francisco.
For up-and-coming businesses, steel shipping containers are a valuable option. They are safe, cost-effective, customizable, and modifiable. You can do more with a shipping container, and get more value on your investment, than with a traditional brick-and-mortar structure.
Read this guide from Conexwest to understand what's involved with the building process. In a nutshell:
You can build an amazing space in the $50,000-$100,000 range

Local contractors will work with you, to help you get the permits you need

You can customize your container to meet any needs—add large windows, fans, security systems, lockboxes, ventilation, air conditioning, heating, and more

As your company grows, you can revamp or renovate your shipping container space
To imagine even more possibilities, take a look at this guide. Ideas:
Have a gym or shower in your office space

Add beautiful artwork to your walls

Work with interior designers to add functional aesthetics, finishes, and hardware
Getting up and running is easier than you think. Especially in San Francisco, you'll want to work with a contractor familiar with local ordinances. You'll also want to work with a lawyer, especially if you're going in on a property with multiple business owners.  What you'll find is that you might end up saving on legal costs, down the road. Companies in the Bay Area are in fierce competition for space. Lawyers are often necessary for lease or purchase negotiations.
Why waste time?
The bottom line: you can build a better, more functional space, faster.
Think bigger: Steel shipping containers are a strategic advantage.
It's well-known that smart buildings are the future of American commercial real estate. But the process of designing and fabricating a smart building can take years. Can you imagine how that time translates into lost productivity?
The internet-of-things (IoT) market is booming. Just take a look at the sheer number of devices on the market today. Between Alexa, Philips Hue, and a range of other devices, connected-spaces are becoming a cornerstone of office productivity.
Imagine building a smart-office-space that's custom-tailored to your needs. With a shipping container office space, that vision can be up and running in months, not years.
San Francisco is the world's tech epicenter. But building business spaces, especially ones with smart capabilities, hasn't kept up. For your company to remain dominant in the rest of the world--and for San Francisco to stay relevant--founders need to make their office spaces smarter.
For advice on how to integrate your people and technology operations, take a look at this article from ZDNet. It features findings from a Microsoft Study, that workers who feel more "plugged in" feel more productive. And that's great for keeping up with the speed of industry transformation. Morale is critical.
Final thoughts: Start tinkering.
Conexwest has developed a tool to help bridge the gap between ideation and execution. It's a design-build 3D modeler. Use it to brainstorm design concepts in real time. The benefit is that you'll get hands-on in the process. This knowledge will be important as you share ideas and firm up your construction plans. With any construction project, plenty can go wrong. The more tangible your ideas can be upfront, in your planning, the lower your likelihood of of making a mistake or wasting money and time.
Check out the 3D modeler here.
And here's a photo gallery with ideas/inspiration.