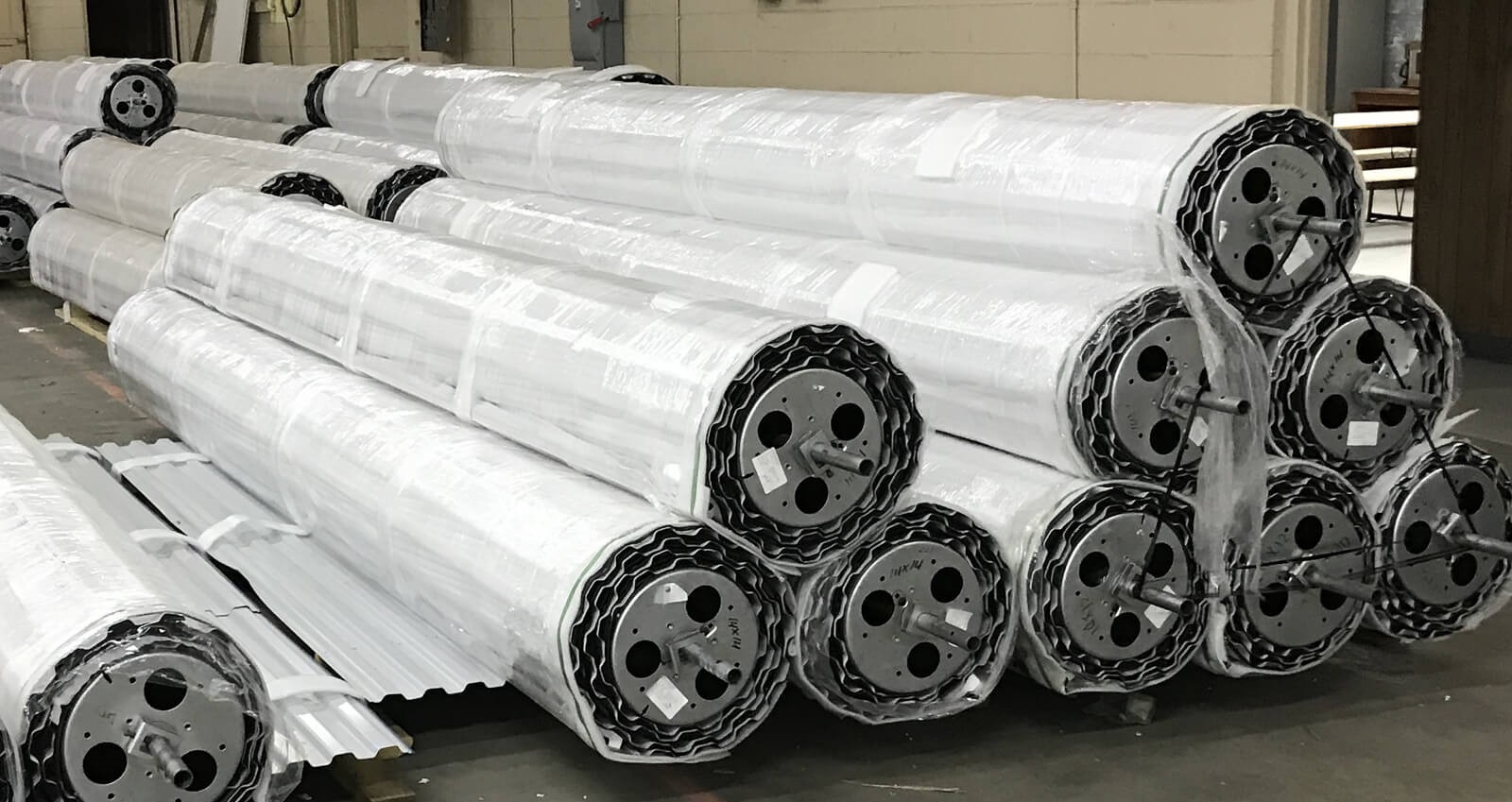 Roll-up doors for sale
Use in garages, carports, barns, sheds, shipping containers, self-storage and commercial units.
Roll-Up doors
Roll-Up Door 3ft x 6ft 8 in.
Roll-Up Door 3ft x 6ft 8 in.
We stock sizes 4ft x 6ft 8 in., 6ft x 6ft 8 in., 7ft x 6ft 8 in.,  8ft x 6ft 8 in. and 10ft x 6ft 8 in.  All other sizes will require 2-3 weeks of lead time.   
Protect your storage, garage, home or office container by installing our 3ft x 6ft 8 in. Roll-Up door.
Specifications:
Steel door curtain formed from 26 gauge Grade 80 steel with 5/8 in. corrugation and finished with super-durable polyester paint.
Bottom bar reinforced with 1 1/2 in. x 1 1/12 in. x 14 gauge galvanized angles.
Barrel assembly fabricated in 9 1/2 in. galvanized coil steel  and 18 gauge drums.
Universal mounted guides roll formed from 18 gauge galvanized steel and fitted with leg wear strips.
No minimum order.
Volume discount available.
*Different color options available by contacting us.
Door Springs
Coated with grease during production, which prevents rust and corrosion
Enclosed in a tube for lifetime protection
Provide for smooth door operation
Ratchet Tensioning Device
Allows for simplified spring tensioning
Tensions all springs at once
Requires no pins to hold the tension on the spring
Radial Ball Bearings
Provided at no additional cost
Permanently lubricated
Require virtually no maintenance
Dead Axle and Torque Tube Assembly
Tube housing protects springs and strengthens the axle
Eliminates axle push and shift that a live axle would create
Allows for springs to be tuned all at the same time
Door Springs
Coated with grease during production, which prevents rust and corrosion
Enclosed in a tube for lifetime protection
Provide for smooth door operation
Ratchet Tensioning Device
Allows for simplified spring tensioning
Tensions all springs at once
Requires no pins to hold the tension on the spring
Radial Ball Bearings
Provided at no additional cost
Permanently lubricated
Require virtually no maintenance
Dead Axle and Torque Tube Assembly
Tube housing protects springs and strengthens the axle
Eliminates axle push and shift that a live axle would create
Allows for springs to be tuned all at the same time