Welcome to Conexwest
We deliver in California, Oregon and Nevada
Conexwest is a leading retailer of standard and modified storage containers in new and used condition to consumers, corporations, government and military institutions. We specialize in new and cargo worthy used containers.
USED CONTAINERS
5-Year Warranty
REFURBISHED CONTAINERS
10-Year Warranty
NEW CONTAINERS
20ST CW - $1750
20ST RFB - $2250
20ST NEW - $3100
40ST CW -

$1900

$1750

40ST RFB -

$2700

$2550

40ST NEW - $4200
40HC CW - $1950
40HC RFB - $2750
40HC NEW - $4300
Standard vs High Cube
Main difference between standard (ST) and high cube (HC) container is the height. Standard units mostly come in 20FT and 40FT. 10FT regular height units are uncommon but available in some states. 10FT regular storage containers have outside dimensions (OD) 8'W x 8'6"H x 10'L. 10FT regular height shipping containers have inside dimensions (ID) 7'8"W x 7'6"H x 9'4"L, door opening is taken into consideration. 20FT regular height shipping containers have outside dimensions 8'W x 8'6"H x 20'L and inside dimensions 7'8"W x 7'6"H x 19'4"L. Weight of 20FT standard shipping container is 4,750 lbs. It is capable of cargo weight 47,500 lbs. 40FT standard container has outside dimensions 8'W x 8'6"H x 40'L, ID is 7'8"W x 7'6"H x 39'5"L. It has weight of 8,380 lbs and cargo worthy of 60,725 lbs.
10FT high cube units do not exist. But if you do need a 10FT high cube container, Conexwest can manufacture one for you out of 20FT or 40FT high cube unit, send us your request. 20FT high cube shipping containers have outside dimensions 8'W x 9'6"H x 20'L and inside dimensions 7'8"W x 8'6"H x 19'4"L. 40FT high cube shipping containers have outside dimensions 8'W x 9'6"H x 40'L and ID 7'8"W x 8'6"H x 39'5"L. High cube containers are highly popular in mobile office configuration and container home projects.
Used Shipping Containers
We offer used containers in cargo worthy condition. Cargo worthy conveys that it is a well sealed container, and it has been inspected by a surveyor. We are committed to providing our clients with best representation of the condition of each container. Each shipping and storage container is carefully inspected to assess its condition and available for customer inspection upon request. We welcome customers to visit our yard and have the opportunity to select from variety that we have in stock. If you are unable to visit us, we offer interior and exterior photos of your specific unit before it leaves our yard to ensure that you know exactly what you are purchasing.
Refurbished Shipping Containers
Refurbished or some say reconditioned containers are the best value for the money. Such units have been thoroughly cleaned out of rust, repaired if needed and repainted for a long lasting use as an outdoor storage unit. Our refurbished units are sandblasted, then spot sanded, patched if needed, primed and then finally covered with a special DTM (Direct To Metal) paint to give your painted container the longest most reliable protection possible. We are happy to suggest one of our primary colors or can color match any sample.
New Shipping Containers
Consider "one-trip" container if you are looking for a new look and condition. These containers are also listed as "new" or "like new" but they will have a minor scratches from their initial ocean trip. These containers usually come in variety of sizes and colors, made in Asia and used only once by the shipping lines before being sold to the public.
No matter which container you choose, it's made of 16 gauge steel with 8 gauge steel corner frames. All containers come stock with outdoor rated hardwood flooring. Floor beams are welded evenly every 14". If you have additional questions, please contact our office at (855) 878-5233. We will be glad to answer any question you may have, as well as assist you with placing the order. Conexwest will help to arrange delivery of your container. Our trucking vendors use tilt-bed trailers and a small truck. We are able to drop your unit virtually anywhere.
Call us today for a quick quote
(855) 878-5233
Our rental units are available in San Francisco, San Jose, Sacramento, Berkeley, Oakland, Walnut Creek, Peninsula and other cities in East, North and South Bay. These heavy duty steel storage containers are capable of standing up to the harshest of job site, industrial or residential demands. Rodent and weather resistant, these units will safely keep your most precious belongings.
Storage
SEE MORE OPTIONS
Offices
SEE MORE OPTIONS
Tents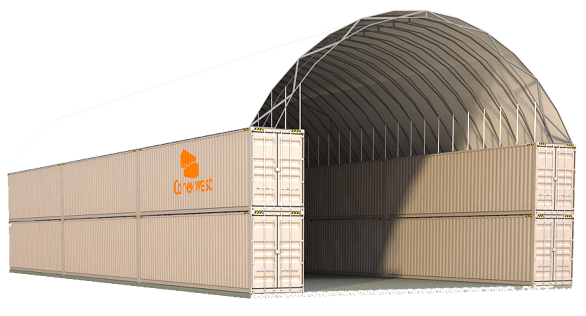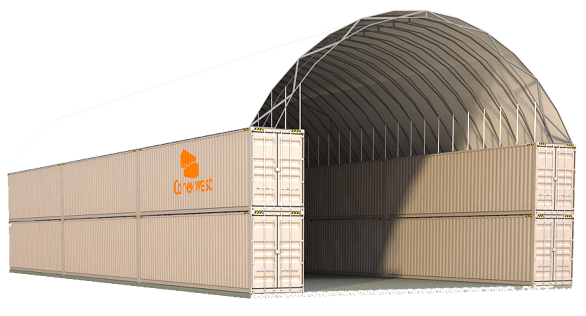 SEE MORE OPTIONS
Specialty containers are designed to withstand harsh conditions and heavy traffic. They are very popular among contractors and farms. Check out our great selection of offices, trailers, tents specially designed for shipping containers and storage units with roll up doors.
There is no small or big job for our team. Conexwest offers quality craftsmanship and commitment in every project. We have years of experience in custom fabrication and always help our customers with great engineering and design ideas.
As all of the fabrication work is done in-house, our quality has no compromises. All container modifications have to pass quality control at each stage of work and the last step is right before delivery. Checkout our gallery of modified shipping containers and see it yourself.
Conexwest is a leading supplier of standard and modified storage containers in Northern California. Our vast inventory of new and used storage containers, large storage container rental fleet, state-of-the-art container fabrication facility and container delivery capabilities uniquely position us to provide our customers with the right equipment at absolutely the best price. Our vertically integrated operation not only passes a huge amount of savings to our customers; but also enables us to maintain an industry leading level of quality.
Do you have questions? Reassure them
Address:
801 Ave H
,
San Francisco
,
CA
94130
Hours of operation: 9am – 6pm Mon-Sat
Email: sales@conexwest.com
Office line: (855) 878-5233