Shipping Container Repair Service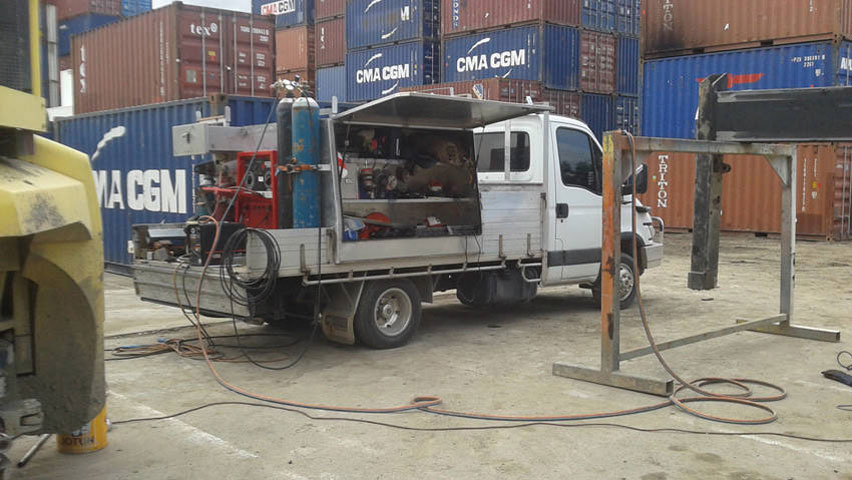 Conexwest is a leading supplier of standard and modified storage containers in California, and now we deliver in both Oregon and Nevada. With a vast inventory of new and used storage containers, a state-of-the-art container fabrication facility, and with a large storage container rental fleet, Conexwest can provide equipment options and prices that other storage container companies just cannot match.
What about onsite Container Repairs?
Conexwest uniquely offers mobile shipping and storage container repairs. Damaged storage containers can cost you money and reputation. Every moment one of your storage containers is out of service or unusable, you are losing money and potential clients. An out-of-service container can't make you any sales, and even if a damaged container is still essentially usable, rust and holes, as well as other container damage, can lead to leaks, which can damage or even ruin the contents inside the container. Having a container out of service is one thing, having to explain damaged product to a customer, and replacing that customer's product, is quite another. Conexwest is your solution to containers in need of repair. Conexwest Onsite Shipping Container Repair Services include: rust removal, hole repair, damage repair, leak repair and much more.
What About Onsite Container Modifications?
Conexwest has years of experience in custom container fabrication. We strive to always help our customers with great engineering and design ideas. Our goal is to help you create the most ideal container system setup for your unique business use. Every business has different container setup needs, whether your container environment needs windows, rollup doors, lock boxes, louvered vents, turbines, lights, or more, we can install exactly what you need onsite at your place of business. One of the major benefits of onsite Container Modification is that the modifications and ideas can be perfected for the exact environment and placement. Tweaks can be made via the eye test, something that cannot be said about an offsite modification process. And, as mentioned above, we strive to help our customers with engineering and design ideas, so being able to make the modifications and suggestions in the actual real-time container environment helps provide you with the best options and best outcome/setup. Onsite Container Modification saves time and money. Not only is onsite modification often a faster process from start to finish, as the container(s) does not need to be relocated to a fabrication ship, then returned, but the lack of needing to relocate the container at all makes the process cheaper. Conexwest has your solution for Container Modification, and it's on an onsite solution as well!
Interested In Onsite Storage Container Fabrication?
Conexwest offers custom onsite Container Fabrication under client specifications. This service is great for consumers that need custom onsite modifications and do not have a modification shop nearby. Some customers have very unique situations and business environments. Not only do we understand that, it's our goal to create ideal Storage Container setups for our customers. If you desire it, we want to help you create it! Our fabrication work is pure quality and our work has no compromises. All container modifications and fabrications have to pass quality control tests at each stage of work, and we even provide a final quality check right before delivery. We offer residential, commercial and industrial solutions to a wide variety of clients and industries. From framing to painting, from awnings to spray foaming, and from custom steel fabrications to wall dividers, we can do it all. We have customers that don't just see their Shipping and Storage Containers as containers; they see and use their containers like buildings. And, for those situations, we strive to make containers look and function like buildings/offices. We have fabricated Shipping Containers into houses, swimming pools, solar powered kitchens, outdoor markets, garages, greenhouses, portable offices, storage tents, storefronts, living environments, food truck alternatives, and more. We have worked with customers in need of FRP Wall Panelling, Hydraulic Door Openings, situations that require HVAC, Insulation, Vents, windows that require Secuirty Meshing, and more. We have extensive experience in sandblasting, customized window and door installations, and we have even created oil containment container environments for customers. Specialty containers are designed to withstand harsh conditions and heavy traffic. Our experts can help you engineer what fits best for your business environment. If you can dream it up, we can create it! Conexwest has a team of experienced welders, carpenters, and electricians all available to help make your container dreams come true.
In summary, Conexwest is more than just a leader in the business of supplying standard and modified storage containers. We strive to test the limits of Storage and Shipping Container Modification and Fabrication. Our vision is to help create the ideal container setup for you and your business, tweaked and adjusted for optimal space usage, efficiency and productivity. Our dedication to providing onsite services, such as onsite fabrication and repair, makes Conexwest your best option for everything Storage Container related. Don't let leaks, rust and damaged to Storage and Shipping Containers hurt your bottom line and/or your reputation. Don't let your onsite environment restrict your production or flexibility. Design around your environment! Whether it's buying a used or new container from our vast inventory, or renting storage from us, or getting your current container environment fixed or tailored around your business needs, Conexwest has you covered!
Conexwest Headquarters Address:
801 Avenue H
,
San Francisco
,
CA
94130
7am – 6pm Mon-Sat
sales@conexwest.com
(855) 878-5233